Wednesday 11 May 202204:57 pm

إقرأ باللغة العربية:
تجربة حزب الله في وزارة الصحة... وقائع تخالف دعاية "مكافحة الفساد"
Seeing how that's the same slogan from their 2018 campaign, Hezbollah will stay the course when it comes to their internal and external policies, both political and socioeconomic.

Hezbollah leaders reiterate that they have a comprehensive political and economic project for Lebanon, and that they are a model for efficient management in ministries. A closer inspection of Hezbollah's performance in paints a different picture though, especially in the Ministry of Public Health.
Hezbollah's slogan in the upcoming Lebanese parliamentary elections is, "We Protect and Build", which indicates that the party will continue to follow the same policies both internally and externally, politically, economically and socially. Hezbollah leaders reiterate that they have a political and economic project for the country, and that they are a model for efficient management in government ministries. The party's performance in public office, especially in the Ministry of Public Health, paints a different picture though.
Their electoral campaign videos have so far focused on financial handouts and one-time social assistance. For example, Hezbollah has spent 9 million USD and 295 billion LBP in one-time handouts, but only one billion LBP and 260,000 USD on the "Agricultural Jihad" program in the Bekaa.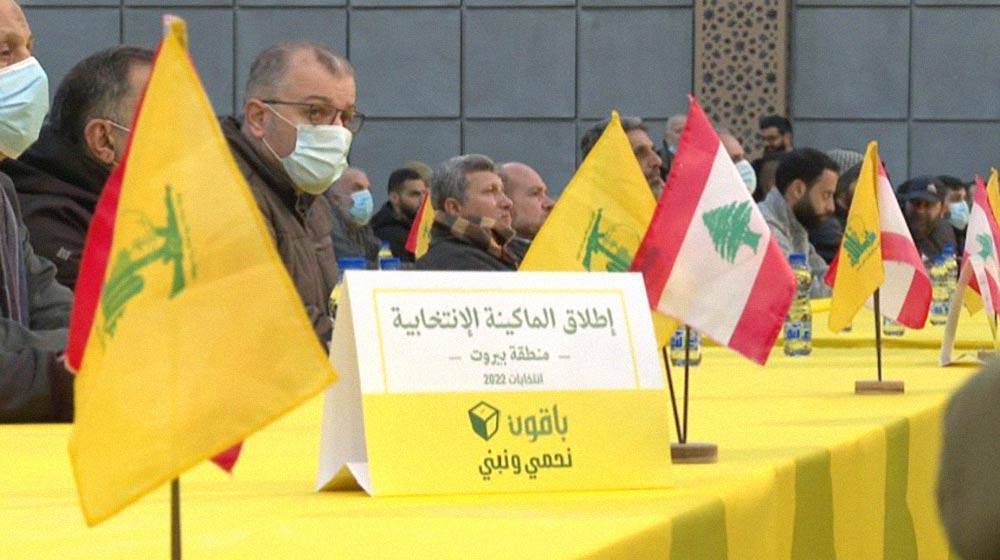 Hezbollah officials allege their hands are clean from corruption, a claim reiterated by Deputy Secretary General, Sheikh Naim Qassem, in a speech in the southern town of Abbasiya last April, saying: "Hezbollah's experience in Lebanon has a luminous title, whether in service and resistance, or in construction and protection, or in the cleanliness of the hands, so that no one can accuse us of corruption, or of taking public funds, or committing heinous things."
Hezbollah's Debut in the Council of Ministers
Hezbollah has operated independently from Lebanon's government for most of its history since the early 1980s. That all began to change in 2005 after the assassination of former prime minister Rafik Hariri in Beirut. In March 2022, the Special Tribunal for Lebanon (STL) found Hezbollah operatives Hassan Merhi and Hussein Oneissi guilty of plotting and executing. Two arrest warrants were issued for the operatives.
The fallout from the Hariri assassination culminated in the withdrawal of the Syrian army in April 2005 after an occupation that lasted 29 years. The vacuum left by the Syrian regime's security apparatus pushed Hezbollah to amend how it participated in local Lebanese affairs.
These changes prompted the group to join the Lebanese council of ministers. Hezbollah's first participation in the government was in Fouad Siniora's first cabinet in 2005, before which its participation in state institutions was limited to the Parliament.
Hezbollah and the Ministry of Public Health
Lebanon's Ministry of Public Health is an excellent example of Hezbollah's performance in a ministry. The ministry is one of the most important, as it directly oversees the healthcare of the Lebanese, both through care in public and private hospitals, as well as securing medication, both of which Lebanon has struggled with severely the past few years.
Hezbollah, just like the rest of Lebanon's parties in power, always pledge in flowery slogans to turn the country into a utopia, but as soon as they take control of a ministry, we see nothing but suspicions of corruption, profiteering, favoritism and clientelism for the benefit of their loyalists
Shortly after former US President Donald Trump's administration withdrew from the nuclear agreement with Iran, Hezbollah's priorities in selecting ministries shifted. The annual budget Iran sends to Hezbollah, which the US State Department estimates is around 700 million USD, was now at risk. Iran's ability to fund Hezbollah was in decline as a result of the US sanctions imposed on it, prompting Hezbollah to demand its piece of the Lebanese pie.
In 2019, Saad Hariri's third cabinet was announced and at the helm of the Ministry of Public Health was Jamil Jabak. Jabak is a doctor that Lebanese media reported was the personal physician of Hezbollah Secretary General Hassan Nasrallah, indicating the party's pick to head the cabinet was from the militia's trusted inner circle.
That cabinet did not last long. Saad Hariri resigned under pressure from massive protests erupted across the country in October 2019.
In the following government headed by Hassan Diab, Hezbollah kept the public health portfolio, with Hamad Hassan as minister this time. Hassan previously served as mayor of Baalbek (2013-2016), and head of the Baalbek Municipalities Union (2019), which is controlled by Hezbollah.
Why the MOPH?
The MOPH share from the government's budget is massive, estimated to be over 480 million USD in 2018. Unlike other ministries, whose budgets go mainly towards ministry employee salaries and benefits, most of the MOPH funding is given directly to the public as healthcare aid. This grants the ministry's controlling party the ability to provide services to its supporters.
That's the case because Lebanon's health system is predominantly controlled by the private sector. More than 80% of the country's health budget is directed towards private institutions, since the larger part of hospital beds is in private hospitals, with just 2,446 beds (16% of total) in 29 public hospitals, while 136 private hospitals have 12,749 beds, according to 2020 numbers.
Lebanon's MOPH budget wasn't the only source of funding for Lebanon's health sector though. The country received hundreds of millions of dollars from the World Bank and other international organizations. In 2017, the World Bank announced a 150 million USD package (120 million USD from the World Bank and 30 million USD from the Islamic Development Bank) and started injecting money into Lebanon's health sector in 2019, when the MOPH was under Hezbollah's control.
Hezbollah Hospitals Benefits
In February 2019, Hassan Nasrallah vowed that Hezbollah would not use MOPH funds, saying during a speech: "Any public money must be spent on specific resources, and no one is allowed to act outside legal, moral and legal controls, and this is a self-assurance from Hezbollah. Investigations can also be conducted there, we are interested in providing a transparent example in this sector, and we can use our own resources to help and make sure the projects of the Ministry of Health succeed."
Within less than a year, which saw the fall of a government and the formation of a new one, Hassan Diab's government doubled the financial ceilings for Hezbollah hospitals. Financial ceilings are the sums of money that hospitals are entitled to withdraw from the MOPH budget to treat uninsured patients, or those enrolled in social security. Political parties in Lebanon usually use this method to provide services to their loyalists.
The decision to double Hezbollah hospital budgets was taken during the final meeting of Diab's government, on August 5, 2020. That was only one day after the catastrophe of the Beirut port blast that destroyed large parts of the capital, killing dozens and wounding hundreds. Days later, on the 10th of August 2020, Diab's government resigned in the face of massive public pressure and outrage at the blast.
In 2016, Hezbollah-affiliated hospitals received 16 billion Lebanese pounds annually from the Ministry of Health. During Hamad Hassan's tenure in the ministry, the amount nearly doubled to 30 billion.
Hezbollah's Al Rassoul Al Azam Hospital got 14.7 billion LBP. In contrast, Lebanon's biggest three hospitals, the American University of Beirut Medical Center, Saint George Hospital and Hotel Dieu de France got 16.4 billion LBP combined.

Hezbollah's Pandemic Response
Ahead of the upcoming parliamentary elections, Hezbollah announced what it promised is a "comprehensive plan" which included many broad headlines without clarifying any of the mechanisms for their implementation.
That's a promise similar to another one made in March 2020, when the head of Hezbollah's Executive Council, Hashem Safi al-Din, announced the party's action plan for the coronavirus pandemic. At the time, the ambitious plan included "a cadre of 24,500 people between doctors, paramedics and other providers of health services" as well as, "training 15,000 people to combat Corona, equipping 32 backup medical centers to battle Corona across all Lebanese regions" and equipping 25 vehicles with respirators, at a cost of 3.5 billion Lebanese pounds (about 2.3 million US dollars, according to the official exchange rate in March 2020).
Hezbollah not only repeats that it is corruption-free, constantly, it even threatens to expose corruption files that "would make big heads roll" as MP Hassan Fadlallah once infamously said but has yet to act upon. A closer look at that claim shows it is not true
However, when the pandemic was in full swing in Lebanon, none of this plan's effects were felt by the Lebanese. Instead the Rafik Hariri University Hospital (RHUH), the largest public hospital in Beirut, the Lebanese Red Cross and private hospitals and community initiatives, led the fight against COVID-19 with little to no public funds to support them.
Adding more to the chaos during the pandemic in Lebanon, many private hospitals spearheading the response had trouble accessing a 40 million USD World Bank loan to help the country respond to COVID-19, all under Hezbollah's watch in the MOPH. All this happened under Hezbollah's leadership and supervision in the MOPH. Dr. George Ghanem, the medical director of the Lebanese American University Medical Center - Rizk Hospital, told Human Rights Watch in December 2020, that "the hospital's situation is difficult" and "there is absolutely no transparency in how the money is being distributed to hospitals."
Poor Leadership in Hezbollah's MOPH
There are many memorable moments during Hamad Hassan's tenure as Minister of Public Health, but perhaps the most striking was the minister dancing with ceremonial swords and in a huge, maskless crowd in his hometown of Baalbek. Another event in which the minister participated, which also went against his own ministry's social distancing guidelines, was his participation in a street celebration in Baalbek on the birthday of Hassan Nasrallah. These events were still fresh in Lebanese people's minds when news broke that Hamad Hassan had tested positive for COVID-19.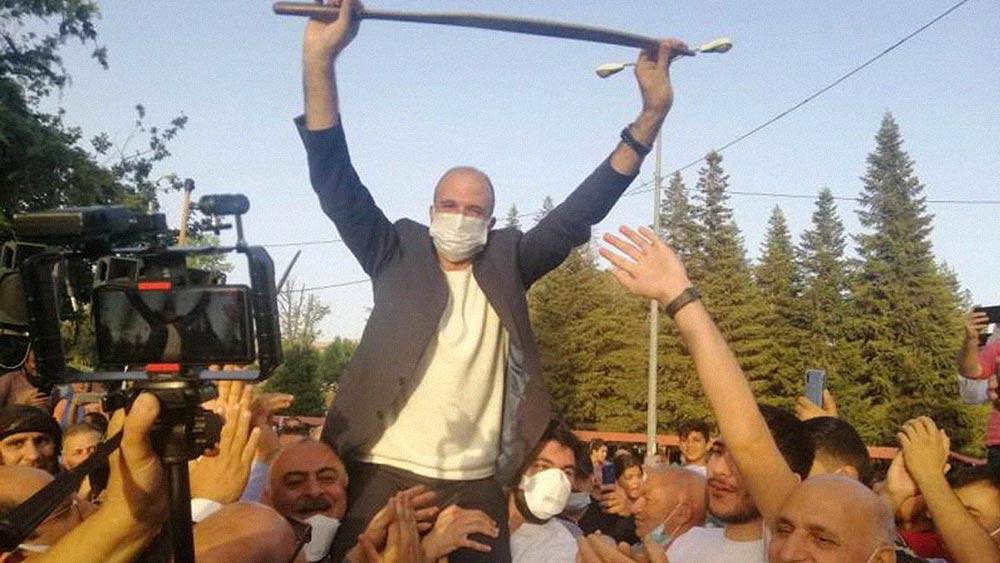 Despite having mild symptoms, he took up a desperately needed hospital bed and posed for press photos while bedridden. At the same time a photo proven to be doctored showing him working tirelessly in the field was disseminated by pro-Hezbollah twitter accounts.
Iranian Drugs and Hezbollah
On August 15, 2021, Lebanon's central bank governor Riad Salameh said in a television interview: "Lebanon spent 1.4 billion USD in the first six months of 2021. In contrast, 2.2 billion USD was spent in 2020." The figures indicate an increase of 27%, despite the absence of many subsidized medications from the market.
Despite this huge amount spent on medication subsidies, the shortage of drugs was so severe that donation campaigns were organized around the world to gather medication donations missing in Lebanon.
This is evidence that drug importers or distributors bought medications using the Lebanese people's subsidies, but stored them to sell them at significantly higher prices when the subsidy on imported medicines was lifted. It is also evidence of the failure of the MOPH in carrying out its supervisory role by preventing such illegal stockpiling of medicines.
During the tenure of both Jabak and Hassan, another issue emerged: Iranian medicines and their entry into Lebanon. Here, the name of the "LebIran" company popped up. LebIran is a drug importing company which includes among its founders, Hisham Al-Moussawi. Currently, LebIran is co-owned by Fatima Al-Moussawi. Their father is Hussein Al-Moussawi, a Hezbollah member of parliament and party official in the Bekaa region.
Hussein al-Moussawi's brother, Hashem, was charged with running a Captagon manufacturing ring. Captagon is an illicit amphetamine that some report is a source of revenue for Hezbollah. Captagon's smuggling from Lebanon to Gulf states has put Lebanon's regional relations at risk.
Reports indicated that both Jabak and Hassan put pressure on the MOPH's committee for drug approvals to approve the entry of 25 Iranian medicines through LebIran, despite them "not being proven safe and effective". Sites close to Hezbollah though, reported 120 Iranian medicines already available in Lebano, including drugs designed to treat severe and chronic illnesses, such as cancer treatment. Many doctors and specialists questioned the quality and effectiveness of these drugs, while others believe that the reason for casting doubt on the drugs is purely political.
Lebanese lawyers Majd Harb, Elie Kirillos, Amin Bashir and Shawkat Houla filed a complaint against former MOPH Jamil Jabak, current MOPH Hamad Hassan, and LebIran, and "all those the investigation finds guilty of abuse of trust, abuse of power and fraud in an attempt to bring Iranian drugs into Lebanon." Ghassan Oueidate, public prosecutor of Beirut, chose to dismiss the case, explaining his decision by stating the complaint "does not include what is considered suspicious, or that any of the above-mentioned persons has introduced drugs of Iranian origin, with the intent of bringing personal benefit, or that these drugs constitute harm to human health." Adding that "decisions on the legality of the Ministry of Health decisions to import drugs into Lebanon is not in the jurisdiction of the Public Prosecutor."
In another series of corruption cases, the names of Hussein Fneish and Abdel Latif (known as Mahmoud) Fneish emerge. They are the brothers of Hezbollah MP and former minister Mohamad Fneish. Included in those cases is stockpiling subsidized drugs instead of distributing them before subsidies were lifted. In another, reports indicated the MOPH granted them an exclusive deal to import PCR testing kits to Lebanon.
In 2012, Abdel Latif (Mahmoud) was named in a forgery investigation related to drug imports, Abdel Latif was indicted in August 2013 for forging signatures of the Minister of Health (Ali Hassan Khalil, from the Amal Movement) as well as importing drugs with forged documents, counterfeit MOPH seals and even faking lab results. Abdel Latif spent time in prison for these charges before being released.
In a third case that sparked controversy is Issam Khalifeh's. Khalifeh owns a drug warehouse and was raided by Hamad Hassan after it was clear Khalifeh was stockpiling drugs in shortage in Lebanon, including for chemotherapy. Hassan was accompanied by TV cameras broadcasting live during his raid, and showed that even drugs used for chemotherapy were allowed to expire as Khalifeh waited for subsidies to be lifted. Less than 24 hours later, Hassan retracted, with the minister saying that "the goods will not be confiscated because it has been proven that the warehouse was supplying pharmacies with small amounts of drugs."
Hussein Fneish, mentioned earlier, is a partner in a pharmaceutical import company called "New Pharm" alongside Issam Khalifeh.
Hezbollah's Program or Empty Electoral Slogans?
Hezbollah, just like the rest of Lebanon's parties in power, always pledge in flowery slogans to turn the country into a utopia, but as soon as they take control of a ministry, we see nothing but suspicions of corruption, profiteering, favoritism and clientelism for the benefit of their loyalists.
Hezbollah not only repeats that it is corruption-free, constantly, it even threatens to expose corruption files that "would make big heads roll" as MP Hassan Fadlallah once infamously said but has yet to act upon. A closer look at that claim shows it is not true.
As if all of the above wasn't enough corruption by Hezbollah, the party has long been suspected of importing goods into Lebanon without paying customs duties on them, under the pretext of "Resistance Security Matters".
The cherry on top of Hezbollah's entrenchment in the corruption plaguing Lebanon, was Nasrallah volunteering to become the defender of Lebanon's corrupt political class after October 17, 2019 and making sure this system of corruption didn't fall.
Show the comments