In a ceremony held in early November to celebrate human rights lawyer Zyad el-Elaimy finally winning his freedom following years of imprisonment in what was dubbed the "Hope Cell" case, stood Dr. Laila Soueif. She happily attended and took part in the event, not knowing when she will experience this joy for her own son, amid what seems to be strong persistence by the state to continue absenting her son, a writer, programmer, and political prisoner, whom she's been deprived of for years.
In the face of imprisonment, and as her son Alaa AbdelFattah continues his partial hunger strike, the mother remains steadfast and resistant, rejecting everything that stands against freedom, and standing with anyone who's subjected to oppression. One may say that a mother fearing for her son and his safety would not be able to remain this strong and steadfast in the stance against oppression, but this does not apply to Dr. Laila Soueif, a university professor, mathematician, a tireless advocate of freedom, and 'mother to a revolutionary household' who raised her children to riot for the sake of justice. Raseef22 sat down with the rights activist at her home after she was assured of Alaa's improving health and that he had broken his hunger strike in the wake of his health collapse while he was prevented from contacting anyone during the Climate Change Conference (COP27) held in Sharm el-Sheikh.
Raseef22 sat down with Dr. Laila Soueif — a tireless advocate of freedom and 'mother to a revolutionary household' who raised her children to riot for the sake of justice — at her home after she was assured of her son Alaa AbdelFattah's improving health
Living with trouble
At the time the celebration for el-Elaimy's release was held, Alaa was in his cell on hunger strike to protest violations being made against him, a decision that came as a surprise to the mother, whose only response was supporting her son. For her, rights and freedoms are not positions declared or demanded by the authorities, but rather principles and convictions that she applies to herself above all.
The mother applies the principle that she decided to have with her husband, the late human rights lawyer and activist Ahmed Seif el-Islam, supporting her three children, Alaa, Mona, and Sanaa, despite fearing for their safety, based on her previous experiences and the crises she's been exposed to over the years. She tells Raseef22, "I would not have been here today if it were not for an important thing I do; I block off my emotions. And when a disaster like this one comes, all I think about is the things I am required to do. This is my way of living and surviving."
This technique came not only with experience, but also through her family's upbringing.
Laila Soueif, the daughter of the two prominent professors and leading intellectuals, Dr. Mustafa Soueif, pioneer of psychological studies, and Dr. Fatima Moussa, nicknamed the "Mother of Translators", grew up hearing the family stories about the death of her grandfather and grandmother in 1956 while she was a young child with her parents pursuing their studies in England, at a time when traveling was not easy. Just like her parents had to get used to distance and loss, so has she... She laughs and says, "There's no choice other than to either sit down and cry, or get your work done so that you remain useful while being distant from your loved ones."
On her trips to bring home cooked meals and long waiting hours to get a "reply", Laila uses a book to entertain herself, and sometimes the company of friends and a wedding anniversary that she still commemorates despite the death of her husband in 2014
A professor of mathematics at the Faculty of Science and member of the March 9 Movement for University Autonomy, a daughter to the founders of the Academy of Arts, a wife to an activist who was detained by authorities on many occasions, and a mother to children that the authorities in Egypt consider to be some of their most dangerous enemies, she has been trained from a young age to face crises, as many have plagued her throughout her life.
Her career choices as a university professor specializing in mathematics do not even come close to politics, but life always has other plans.
At the age of sixteen, Leila Soueif walked out of the gate of her Orman High School — a free public school at the time — to participate in a demonstration calling for resistance against Israel. That day marked her entrance to a world she never left.
Today, half a century after that demonstration, she laughs as she describes herself as "old in politics". She emphasizes the difference between a person not being interested in "such issues" from the start, and them being part of a person's life and wishing to change them after growing up, "Either you won't know (how), or you'll offend yourself."
And because she won't change now, it has become customary to see her protesting against an unjust decision or sitting on the sidewalk holding a sign demanding a letter from her son reassuring her that he is still alive, and calling for "freedom for all", without fear of persecution. Rather, she sees herself as fortunate, whether compared to the people of her generation who were imprisoned, and to Alaa and his peers, whose tragedies she addressed in an article in the New York Times, under the title, "My Son Is Not Alone. Millions of Young People Commit His Crime".
For committing the "crime" of calling for rights and freedoms, her son was imprisoned, and he and his family suffered from unjust practices, the most prominent of which is that his few-and-far-between meetings with his family are blocked off by a thick glass barrier, with no connection between him and those standing on the other side. He only has half an hour, once a month to see his loved ones — a short period of time during which he cannot touch or embrace them. The harassment he's subjected to even necessitated a hunger strike and came accompanied by legal procedures that found no response from the relevant authorities to allow the entry of a book, magazine, or music player, and even refused to allow visitors to bring him food and fruits while he was in Liman Tora Prison, leaving the mother to throw them in the trash just to get to see her detained son.
Just like her parents had to get used to distance and loss, so has she... She laughs and says, "There's no choice other than to either sit down and cry, or get your work done so that you remain useful while being distant from your loved ones."
Despite all this, from authorities banning the radio and government newspapers, and limiting access to an art magazine every once in a while or foods from home prepared by his mother, Laila considers herself and her son lucky compared to others, whether they're "prevented from giving their cooking for an imprisoned son or husband", or those who have been deprived of visits for years altogether.
Experiencing struggle
The mother visits her son Alaa, a political prisoner who, along with hundreds of thousands of others, tried to stand against dictatorship even before 2011, following in the footsteps of his father, mother, and grandparents, ever since his parents were college students in the seventies. She makes her trips to prison on her own many times, after Mona and Sanaa moved out of Egypt to continue the family's political and media battle for Alaa's freedom, and to preserve their personal safety, specifically from arrest in Mona's case or renewed arrest and imprisonment in Sanaa's case.
"As long as you've raised a child with a strong character who uses his brain, he will do what's on his mind. He'll either do it behind your back, or he'll challenge you and do it anyway. All you can do is make them understand what can result from this
Laila uses her weekly trips to bring home cooked meals, spending long waiting hours to get an "answer" with a book or math problems to entertain her, and sometimes the company of friends and a wedding anniversary that she still commemorates despite the death of her husband in 2014.
The marriage of Laila Soueif and Ahmed Seif al-Islam carries on, not only because she is still listed as "married", and not a widow, on her Facebook account, but also because this is what she still sees despite the changes made in official papers regarding her life partner.
Seif is also a partner in the struggle for rights and freedoms, who had to pay the price of five years of agony when he was arrested for "joining an armed communist organization" in 1983.
At the time, their firstborn Alaa was a child. Seif, as she always calls him, came out of prison and decided to change his ways, because, as Laila recalls, "he gave in during his torture and provided some information; So he said he should never know confidential information again."
Seif finished his years in prison as a law student, so that he would have "a job and make a living," according to Leila, who tells Raseef22 the secret of their choice of this college, which is characterized by its freelance work and allows him to "open an office", while giving him space to support detainees by volunteering in their cases, like a number of human rights figures, most notably Nabil al-Hilali.
Their life plan and earning a living went as the couple had planned, to the extent that the first case Seif won and his wife remembers "was purely commercial before the Constitutional Court", until the number of human rights issues and cases increased, and the husband cooperated in the mid-nineties with the Legal Aid Center in support of labor issues.
The call for freedoms prevails
The couple's previous agreement was canceled in favor of more involvement in human rights issues, a situation that continued until Seif's death, leaving the wife to continue on the same path, but as a speaker, defender, and participant in advocacy and protest. This all comes in addition to her strict commitment to her work in university teaching, and she isn't concerned with fearing for herself, as she once said in a press interview: "I am sixty-four years old, it doesn't matter what could happen to me."
This sixty-something woman — a mother of three children who were violently ill-treated by the authorities and refused to back down, even if just to avoid harassment and accusations of "treason and collusion" — confirms that the trials of time have transformed her children from people who once saw politics as "boring and ridiculous" to what they are now.
Alaa is a prisoner today known as the 'Al-Tinnin al-Bambi' ('The Pink Dragon'). His early interests were related to writing and software. In his twenties, he became the father of the free programmers community in Egypt, and he also carried against his will a title — one that he did not like and thought was ridiculous — the 'father of bloggers'. Alaa's early participation in the demonstrations was among the ranks of journalists reporting under "citizen journalism," until he responded to the call for freedoms when tragedy fell on May 25, 2005, known as 'Black Wednesday'.
That day, before Alaa's very eyes on the steps of the Egyptian Journalists Syndicate, thugs affiliated with the Egyptian security forces violently attacked and sexually assaulted the female journalists. His mother, Laila Soueif, recalls, "On the terrible day when the women were beaten and kicked out, his attitude changed and he began to contribute, not just publish."
Her second child, Mona, a biology graduate student, also responded to the call for freedoms following the events of the "protests for judicial independence", while Sanaa, her third and youngest, responded to this 'calling' after the January revolution. The mother says, "Every one of my children was rejecting [the unjust practices]. In the current situation across the world, not only in Egypt, it is very difficult to remain a person who has a heart and not get dragged into these issues. It is very difficult to keep your dignity, after you're dragged into it and then just backing down."
Therefore, as a mother with her own principles and stances, she did not try to pressure her children or even just advise them to back down, and she had made, in this decision, calculations that she exemplifies with the events of "Mohammed Mahmoud", which began when sporadic protests erupted against videos that shocked the world showcasing security forces dumping the bodies of civilians on trash piles after they were killed on the morning of November 19, 2011. Among those demonstrations, one came out of Tahrir Square from Cairo University, saying that its participants were "girls who participated behind their parents' backs."
In the face of the repetition of such incidents by the authorities, Laila Soueif, and her husband Ahmed Seif al-Islam, dealt with the children and their decisions towards political events, by only providing advice, support, and attempts to secure their safety. She says, "Of course, we were still afraid and anxious, and I kept trying, for example, to remain tough and would stick to Sanaa and Mona down in the square. But for me to just tell her, 'No you cannot do this'…?" She smiles as she swipes her palms against each other, indicating that this would definitely not work.
She further explains, "As long as you've raised a child with a strong character and who uses his brain, he will do what's on his mind. He will either do it behind your back so he won't have to argue with you, or he will challenge you and do it anyway. All you can do is make them understand what can result from this."
Wide support
The children followed in the footsteps of the parents. They took a stance that — even if it caused them losses — made them true advocates of rights. Their stances also helped them receive wide support, which appeared on separate occasions like the celebration of Alaa's book "You Have Not Yet Been Defeated", published in Arabic under the name "The Ghost of Spring", or in wide solidarity campaigns with the young man in various countries across the world, in addition to many supportive messages that the mother received.
This support sometimes helps make things easier for her when it comes to the intransigence she and her children encounter on many occasions, like when authorities such as the prisons administration and the Ministry of Interior refuse to receive her messages, or being met with lax international stances even when her son's life is at risk, whether by hunger strike or suicidal tendencies. This made the mother assert that "Western regimes have proven that they can be bought with interests," citing the Regeni case, where an Italian student was abducted and tortured to death in Egypt. All this has made her decide that "This is why a person mainly addresses the public opinion, so that it would hold their governments accountable."
These governments are the ones whose representatives participated in the "COP27" (Climate Change Conference), the international event that Egypt organized and drew international attention to Alaa and his cause, whether by raising the issue of regaining his freedom in official meetings or by standing in solidarity with the detainees — with Alaa at the heart of them — in the face of the "state" supporters organizing a stand that openly declared that it was "against Alaa AbdelFattah" and what they called the "politicization of human rights".
Leila Soueif reacts to these "state" movements with nothing but laughing in astonishment and despair at such mindsets, "[These] phenomena are far too much to deal with, with anything other than laughter," despite the endless harassment from its various sources.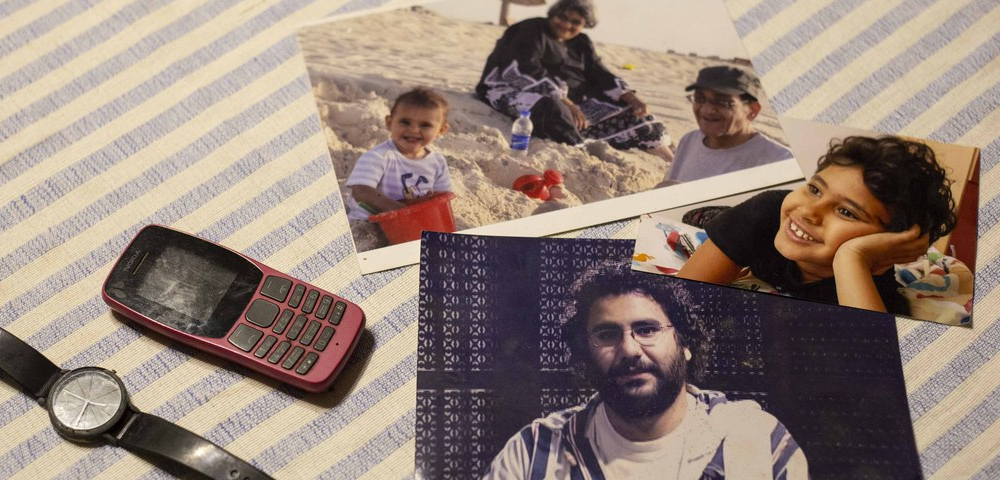 Continued resistance
The harassment faced by Alaa – who recently became a British citizen – does not stop. But, just as authoritarian harassment continues, so does resistance.
Whether by searching for every legal avenue, such as the intervention of a British lawyer to defend him, or making the British government discuss his cause with its Egyptian counterpart, and even the repeated endeavor to include him in the lists of presidential or health pardons that are issued from time to time, it was as if he were paying a price for what Laila says is "my impression that they're upset that they haven't been able to break him."
The authorities may be vexed by his "unbrokenness", according to Leila, whose actions and efforts — whether to support her son or other political prisoners — may be an additional reason for the Egyptian authorities' dismay. This, she does not find any shame in, "This is nothing upsetting! My purpose is to bother and harass the establishment."

She has her own philosophy in this decision, "If we're talking about me, Laila Soueif, then the thing that I always say is that the least we can do is harass them and not let them be content or happy with the injustices they're practicing", and perhaps this gives her a guarantee to protect her son from a bad fate, even if it increases his "hazing and harassment".
That is why, after Leila spent "50 years in politics and struggle" as a rights advocate, a seeker of freedoms, and a rioter against the authorities, the revolutionary mother assesses the current situation regarding hundreds of prisoners with the mind of a mathematics professor. If it continues as is, she sees a "madness and chaos" much greater than what may happen if it ends, such as what may be with her son, who will need to rebuild his life, whether on the professional front or with his family, particularly his only child, Khaled.

Laila concludes with the words, "I am saying something realistic. Just look at Alaa, and you'll see that he has a son who has autism, and who is in great need of his father. Alaa loves him very much. In reality, [if he finally regains his freedom] what will happen is that Alaa will remain focused on Khaled, he will build a career and restore his life and health, and he will be like any other citizen with a conscience who would come out and say a few words [against injustice] every once in a while."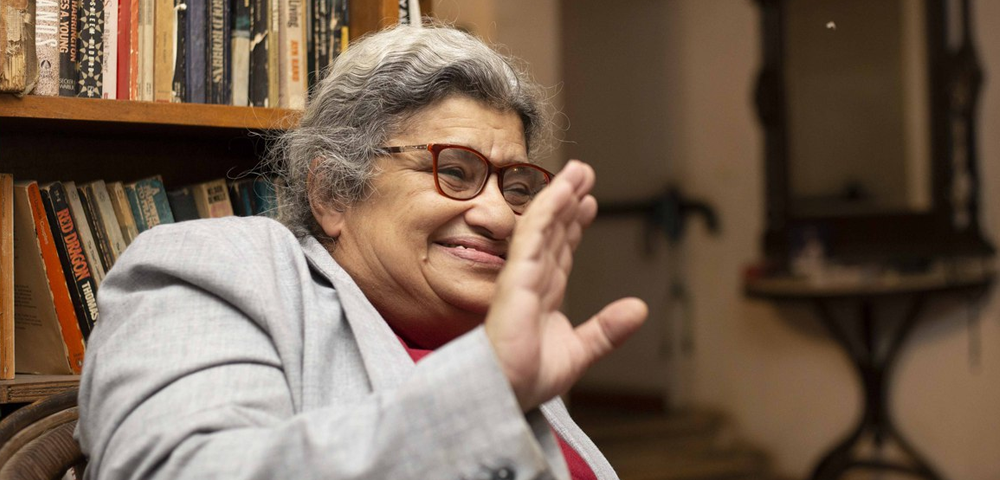 Raseef22 is a not for profit entity. Our focus is on quality journalism. Every contribution to the NasRaseef membership goes directly towards journalism production. We stand independent, not accepting corporate sponsorships, sponsored content or political funding.
Support our mission to keep Raseef22 available to all readers by clicking here!