Wednesday 3 July 201905:00 pm

إقرأ باللغة العربية:
محمد صافي... شاب فقد بصره تحت التعذيب في سجون حماس
"If you can only see with one eye, we don't want you to see at all." Those were the words of a Hamas prison guard to 27 year old Mohammed Safi who begged his torturers not to strike him on his head – having suffered for years from vision problems.
Mohammed had been summoned by Gaza's internal security apparatus after an official complaint suspecting his involvement in the Gazan protest movement "We want to live" (Bidna Ni'ish) - which broke out in the besieged territory on the 14th March calling for improvements in living conditions and the lifting of taxes on basic commodities. Today, Safi lies on a hospital bed in the al-Shifa hospital in Gaza city, having lost his sight in both eyes as a result of his prison torture.
"I didn't take part in the protests"
Speaking to Raseef22, Safi recounts the details and chronology of the events: "Although I supported the goals of the movement and its demands for a better living," he says "on the day of the protest I was on my way home and passed through the crowd, on my usual route home and a few days later, I was summoned to the internal security headquarter for investigation."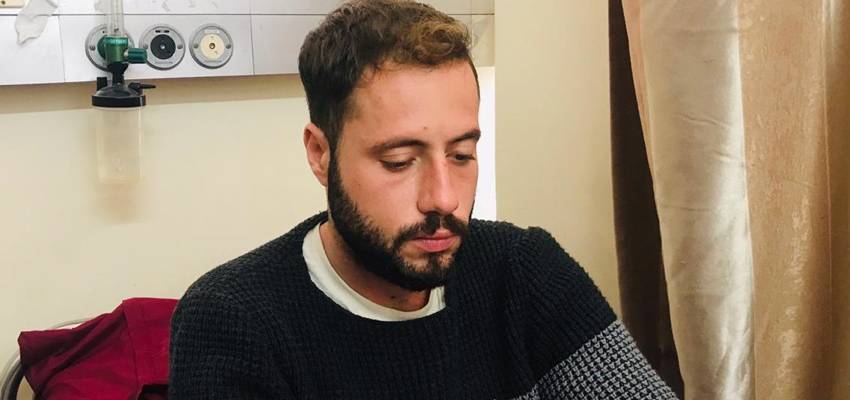 The events took place on the 19th March, Safi says, where he proceeded to the security headquarters before being immediately asked to hand over all his personal effects. Safi was subsequently detained in a six square metre traditional 'Arabian' toilet, filled with insects and a strong stench. A short while later Safi recalls, his jailers brought a mattress into the bathroom for him to sleep on; the next morning, he began asking security personnel about the reasons for his arrest.
Three individuals subsequently arrived on the scene and started beating Safi inside the bathroom. Safi says he was then taken to the "investigation room" where he was questioned about his participation in the protest movement. "I made it clear to them that I didn't know anything about its details," says Safi "and denied all their allegations of my involvement."
Safi recounts: "The first two days I was tortured by various instruments and verbally insulted, and on the third day I felt a strong pain in my head and extreme blurred vision." He continues: "I immediately informed them [the interrogators], but they ignored me."
Indeed, Safi told Raseef22 that not only did the interrogators ignore his complaint, but they allowed one of their members to violently strike him in his head and face – with the assailant repeating the phrase: "I will beat you until you lose your sight fully" With his condition increasingly deteriorating, the authorities eventually decided to release Safi – on the condition that he return eight days later to collect his personal effects and 'conclude' the affair.
The Deterioration of Safi's Condition
On his way back home, Safi soon realised that he had completely lost his sight in his left eye, and was subsequently transferred to the Eye hospital by his family. There, he underwent urgent surgery and remained in the hospital until he eventually regained his sight and his health condition stabilised. Nonetheless, hospital staff informed Safi that he would need a second operation at a later date.
In the meantime, Safi would return to the security headquarters on the requested date to collect his items and "close" the affair. Instead, he would be detained once again for five hours alone in a dark room, with no one telling him the reason for his detention. Safi was eventually allowed to leave (without his items) on the condition, again, that he present himself to internal security at a later specified date. That he did, only for the same experience to be repeated, and for him once again to leave hours after entering the station without his personal items.
The scheduled date for Safi's second surgery – the 9th of April – would clash with Safi's final appointment at the internal security headquarters. When he arrived there, he decided to immediately detail his medical condition to the prison wardens; they cared little, however, and he was detained for the third time in a dark room from morning until night. Finally reaching a breaking-point of exhaustion, Safi started to hysterically bang the door of his cell, crying: "I can't see, I've lost my eyesight."
Safi was subsequently let out of his room by his jailers and requested to sit on a chair to rest, but he refused and asked to be released. "When I got out I couldn't walk at all and sat on a pavement next to the security headquarter" Safi says. "A passer-by took notice and asked me why I was sitting like that, and I responded crying that I couldn't see anything, and I was immediately transferred to al-Shifa hospital."
Outside the scope of Palestinian Law, Hamas prisons are the worst nightmare for any Palestinian, they guarantee one will never be the same person again via beatings, insects, stench, fear and darkness.
"The first two days I was tortured by various instruments and verbally insulted, and on the third day I felt a strong pain in my head and extreme blurred vision". Testimony from a beaten to blindness young Palestinian.
The Interior Ministry's Response
Gaza's Interior Ministry released a statement on the morning of the 11th of April declaring that it was following-up on Safi's case and was examining the details of his detention. The statement further declared that a complaint had been lodged by Safi's family with the General Supervisor at the ministry.
However, the Interior Ministry's statement contradicted what Safi's family and friends surrounding his hospital bed told Raseef22 - who insisted that they did not lodge any complaint with any authority.
The Interior Ministry subsequently followed up its first release with a detailed statement confirming Safi's account of his summoning and the numbers of day he spent in detention, and declaring that it had "conducted the necessary inquiries into the case of citizen Safi, and followed the medical checks he has undergone."
The statement went on to announce the ministry's receipt within the previous few hours of a copy of Safi's latest medical report explaining his condition; this affirmed his hospital admission on the 9th April on the suspicion of suffering Multiple Sclerosis (M.S.) – a well-known disease that could cause a sudden loss of eyesight.
According to the medical report cited in the Interior Ministry's statement, Safi suffered from an acute inflammation in his optical nerve – a condition which he had already experienced between 2008 and 2012, with his recent loss of sight a natural complication of his previous condition.
However, the Ministry statement also claimed that it had reached the conclusion following its inquiries and examination of surveillance camera footage, that Safi was not subject to beatings on his head – declaring that his medical deterioration was unrelated to his arrest and imprisonment. The statement proceeded to express the ministry's willingness to allow human rights bodies to review Safi's case as well as the results of its own investigation. Sounding a tone of suspicion, it finally concluded: "There are some who have sought to exploit the humanitarian case of citizen Mohammed Safi in the context of political squabbling, by participating in lies and forgery and playing on [sic] the emotional chord" – threatening legal measures against parties made such claims.
Legal Violations
In a rebuke of the Interior Ministry's 'invitation' to human right groups to investigate Safi's case, the Palestinian Centre for Human Rights has for its part repudiated the Interior Ministry's account – affirming that the 27 year-old did indeed lose his eyesight following his arrest and torture, and calling in a statement on the relevant judicial bodies to investigate his torture, hold those responsible to account, and provide Safi with the necessary medical care.
The monitoring group also pointed out that the detention of prisoners in inhumane settings and physical and verbal assaults against them constituted a serious violation of human rights and amount to nothing less than torture. The group's statement also reiterated that the detention of any citizen in a security headquarter must include a medical examination; that the detaining centre is completely responsible for the health condition of those detained; and that detentions on the basis of opinions and expression is a grave violation – accordingly calling on security forces to stop summoning citizens because of the practice of those freedoms.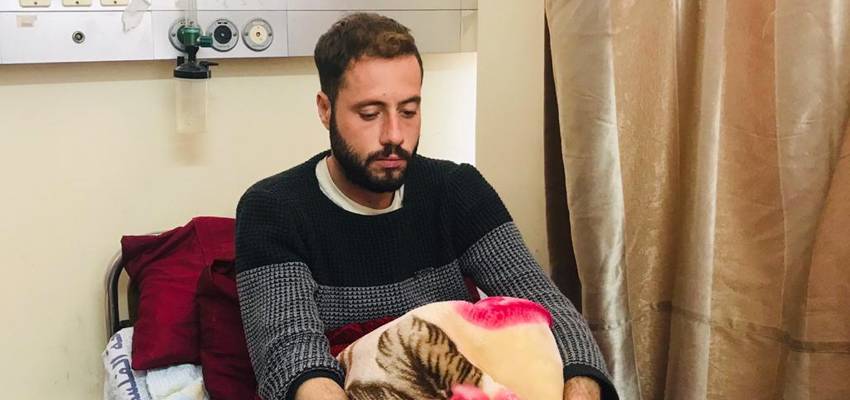 Meanwhile, legal researcher Abdullah Sharshara told Raseef22: "The Law No.6 issued in 1998 grants any individual under arrest specific rights, including the right to healthcare and medical checks," adding that the law compels the management of a detention centre to seriously address all complaints which cite a prisoner's illness.
Sharshara also says that Safi's case requires an urgent response by Gaza's authorities: one which provides him with the necessary medical treatment at the government's expense, and additionally encompasses the establishment of an independent committee which can objectively examine Safi's case and take appropriate action against those responsible.
Mohammed… the Man of Initiatives
Over the past few days, Mohammed's friends have gathered around his hospital bed, hardly leaving him alone. Sorrow visible in their faces, as they witness the pain of a young man robbed of his life.
Rami Aman a close friend of Mohammed said: "Mohammed was one of the most active young men in social services, implementing various voluntary initiatives which aimed to treat social problems and raise youth awareness on many causes." Aman adds that Safi was not a political partisan and did not lean to one side over the other – accordingly, working with all parties in the service of his community.
Indeed, 20-year old Hedaya al-Zaanoun says that Mohammed previously worked alongside many Hamas-led government ministries, including the Ministry of Tourism and the Interior Ministry itself. The Internal Security apparatus, al-Zaanoun said to Raseef22, was fully aware of the nature of Safi's work – which did not surpass the level of volunteering to clean the beaches of Gaza and its archaeological sites, as well as his participation in guidance, awareness and recreational workshops for the most marginalised segments of society.
In turn, Aman says that his friend's circumstances were no different from that of many of Gaza's unemployment youth. Safi graduated from university a few years ago, but could not find a steady job which could offer him the prospect of a stable life amidst Gaza's harsh living conditions. Yet Aman says that "this did not create a feeling of despair or hopelessness" for Safi, who "continued carrying out his voluntary activities."
Engaging with the Palestinian Cause
In the days following Safi's latest hospital stay, hundreds of tweeps condemned the abuse of Safi criticising Hamas's security forces and policing procedures which continue to treat citizens harshly and with intimidation, paying no attention to the established legal procedures relating to summoning and arrests.
Indeed, Twitter users have taken to the site in the past few days, circulating pictures of Mohammed's participation in campaigns and initiatives to Gaza's clean public spaces, and demonstrating his devotion to the national and social events and activities in which he was a routine participant. Surely, some concluded – denouncing the mini-despots who robbed Safi of his sight – this could not be the end of a man who strived day and night to beat hopelessness.
Show the comments