Wednesday 15 May 201903:18 pm

إقرأ باللغة العربية:
"والله ريحته أحلى من ريحة العطر الفرنسي...شمّ ما أجمله" السوريون يواجهون أزمة "البنزين" بالضحك
"By God, it smells better than French perfume. Smell its beauty."
Those were the words of Abu Muhammed, a taxi driver waiting alongside a friend in a long fuelling queue outside a petrol station in Central Damascus. Dozens of cars are moving slowly forward across four seemingly interminable lines – the same fate experienced by millions of others in a country that has been suffering a suffocating fuel crisis since an acute petrol shortage emerged last month.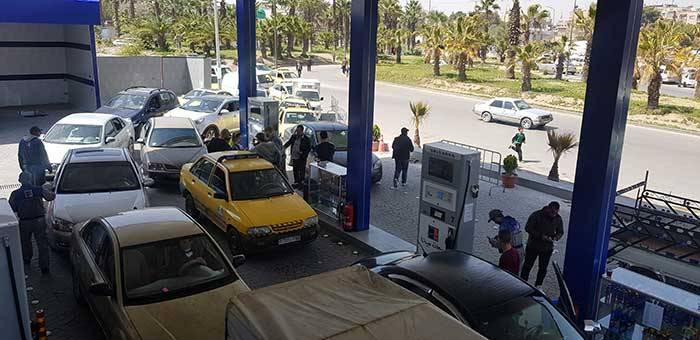 Abu Muhammed can't stop fidgeting as he waits his turn, looking at his watch every five minutes and counting the number of cars in front of him to try and predict the minutes (or perhaps hours) he still has ahead. He tries to strike a note of optimism: "This station is better than the rest. Here there are four lines, in other stations there are two and it's much slower."
As with the rest of Syria's car owners and drivers, Abu Muhammed has to wait for up to four hours every day in order to fill up 20 litres of petrol, which has become the maximum allowance permitted every five days for drivers, following a communiqué circulated by the Ministry of Oil and Mineral Reserves in early May.

The new prescribed limit is part of the monthly allotment of state-subsidised fuel (costing 225 Syrian Liras, or approximately half a US Dollar per litre), which has been restricted to a maximum total of 200 litres for private cars and 400 litres for vehicles for hire, such as taxis. The latter, of course, is still insufficient for Abu Muhammed, who works every day from early morning until late at night to make ends meet for his family and three children, with a significant portion of that valuable time now being spent in fuel queues –reducing his income and in turn forcing him to work even longer hours.

Abu Muhammed, who is in his fifties, tells Raseef22: "Our entire life is torture and exhaustion; we have spent eight years [of the war] awaiting either death or fuel or electricity, and it appears that there is still a lot ahead of us."

Displaying that hint of optimism once again however, he adds: "But if we don't meet this crisis and others with a lighthearted spirit, we won't be able to continue."

He gestures to his friend, laughing: "Go bring a kilo of seeds to entertain us while we're waiting."

Deploying sarcasm in the face of crises
The recent petrol shortage follows months of similar energy crises, most notably a winter shortage in diesel, which powers the most common form of heaters used in Syrian homes, as well as gas cylinders needed for domestic cooking.
The absence of diesel in particular has meant that many Syrians were forced to experience some particularly arduous winter months, with most families having to wait in long queues on a daily basis. Electricity meanwhile continues to be rationed for up to 12 hours per day in most regions, with some areas even experiencing cuts exceeding 20 hours a day.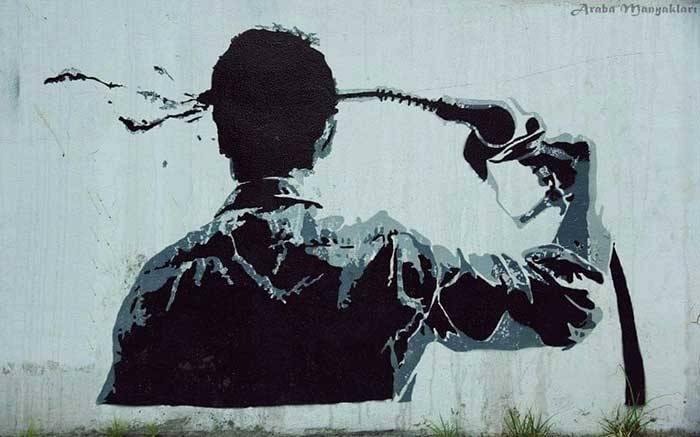 Meanwhile, the Syrian government attributes the recent fuel crises to the large losses experienced by the oil and energy sectors as a result of the ongoing eight-year war, in addition to economic sanctions imposed by the United States as well as various Arab and Western states, which makes it more difficult to import petroleum products.
Yet humour has been one unexpected by-product of the newest form of disruption experienced by Syrians. In conjunction with a feeling of near-total helplessness among the citizenry, the constant repetition of the crises over the past few years has opened the door for a resurgence of black comedy in Syrian life as the best way left to deal with the difficulties of their everyday lives.
A sampling of social media postings about the crisis:
"We used to fill up petrol to go for a drive, now we go for a drive to fill up petrol."
"Today, the Mezzeh petrol station will bring Wafeek Habeeb [famous Syrian singer] for the evening."
"The Al-Kussur [district of Homs] has no singer, only an open dinner and drinks and a DJ."
Meanwhile, a somewhat more sombre post reads: "Until when will we endure this? No petrol and no electricity and no diesel, and on top of all of this the increase in prices and the unchecked corruption. By God, in order to get 20 litres it's worth it to get humiliated and insulted and wait for hours; [on the other hand] it's not worth it to have a ministry of oil for 20 litres of petrol."
Another poster references a food delivery order of a 'burger and two cokes' made from a station by one driver, to be delivered to "the Baghdad street [petrol] station, the third line, the blue Kia" – adding the plate number to avoid any confusion for good measure.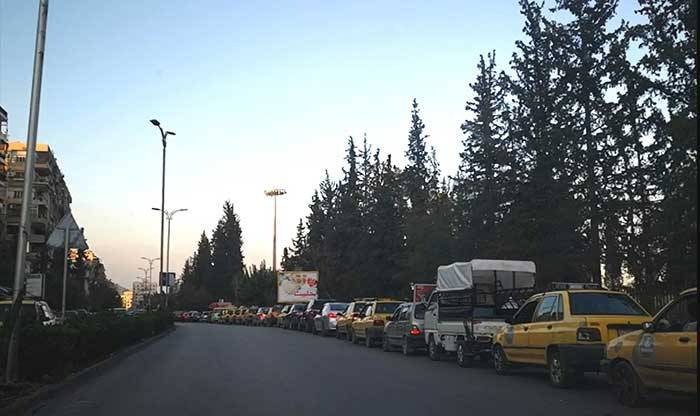 Meanwhile, a Facebook post on the Jusoor Entrepreneurship Program page (an organisation focussing on small-scale projects and businesses in Syria) asking the question, "As a Syrian entrepreneur, if you wanted to utilise the petrol crisis with a money-making project, what would that be?" was inundated with a flood of witty quips and responses, including the suggestion of a falafel and boiled corn stall at the station, a service which can send an employee to wait in queue in place of the driver, and yet another which dispatches its workers to entertain the driver and help them pass away the time for some specified fee.
In addition to the sarcastic posts, photos and memes poking fun at the current fuel crisis have also filled social media sites. In one, a girl sitting with her friend on a distant planet watching the Earth from afar asks: "Is that the Great Wall of China?" Her friend replies: "No my dear, that's a queue at a Syrian fuel station."
Another photo displays Syrians devising a 'new' form of transport with no need for fuel – wooden carts pulled by horses. A third image shows someone trying to commit suicide using a fuel nozzle instead of a gun.
The solution lies in… astrology?
Having waited for more than an hour at a Damascus fuelling station, 'Norma' decides to open her Facebook app to send a query to Syria's most renowned astrologist, 'Najlaa Qabbani'.
"Hello Ms Najla, my name is Norma and my mother's name is Radina and I was born in February. Can you find out for us when our turn in the petrol station will be?" the message read.
A woman in her thirties, Norma has long since become adept at dealing with the various crises in Syria's service sectors in a jovial manner, for "anger and tension will not bring any solutions and will not help us get fuel any quicker," she tells Raseef22.
To her surprise, Norma actually received a response from Najlaa Qabbani: "Today the moon is in your horoscope, wait two hours and you will get fuel." Norma laughs recounting the event, saying: "I usually feel optimistic when I hear something positive about my star sign, and I prefer to deal with everything we are going through with a spirit of humour away from negativity."
Qabbani, the astrologer, tells Raseef22 that Norma isn't alone in Syria in resorting to horoscopes to discover her fortune, adding that people often do so during times of fear and anxiety in order to gain a sense of comfort and calm.
"Syrians are now in greater need of comfort and a positive spirit at the same time," she says. "During crises we need one another, we need those who tell us that tomorrow will be a better day."
She added: "This is what I do through combining my knowledge of horoscopes and my ability to discover the broad lines specific to every star-sign with guidance which I believe everyone should follow during these crises, and which I offer in the form of positive advice."
Show the comments