Syria, at times, becomes bearable enough to give people hope that it can some day be a place where life can flourish, despite all the challenges it continues to face. This is thanks, in part, to cultural events orchestrated by individuals who embrace the principle of collective action to convey messages of community, laden with love, joy, and hope for the future. One such group is the "Gardenia Choir", consisting of Syrian girls who, over the years, have exemplified the resilience of Syrian women and their ability to revive a society worn by the ravages of war.
Although five years have passed since I first encountered them, I will never forget that day in the city of Jaramana, where they sang songs from animated movie soundtracks as part of a program titled "How Wonderful It Is to Live", and I was taken back in time to when I was a little girl, to a moment in time when Syria, our beloved homeland, was beautiful, unlike its current state.
A mix of strange and conflicting emotions stirs within, yet there are those who are determined to transport you back in time, to relive the memories of a full life, while the young members of the "Tanaghom Harmony Choir", spread joy through their harmonious melodies.
In war, women can bring about change
Safana Bakleh, the administrative director of the choir, reminisces, "I've known Ghada Harb since my days as a student at the Higher Institute of Music. Back then, she assisted Professor Viktor Babenko, the Russian choir conductor. Ghada used to bring her little daughter with her, a child so small her feet barely touched the ground when she sat. Now, that same child has become an integral part of the Gardenia Choir".
"Gardenia Choir", is a group of Syrian girls who, over the years, have exemplified the resilience of Syrian women and their ability to revive a society worn by the ravages of war
She goes on, "I got to know Ghada better after we both graduated. We worked together in the chamber choir and decided to leave around the same time. The idea of establishing the Gardenia Choir took root in 2016, during the early days of the Syrian conflict, when we were searching for purpose and direction in our musical lives."
Ghada Harb, an opera singer and the first woman to lead a choir in Syria, had the idea of establishing a women's choir and approached Safana to be the troupe's director. Thus, an independent project was set in motion, assembling an independent choir composed of young women who were not only deeply committed to collaborative efforts but also capable of carrying out the tasks required of them. They felt at the time that it was the most logical idea, as many young men were being conscripted for military service, and were trying to remain hidden or wanted to leave the country.
They began reaching out to young women for training, all of whom were either graduates or students of the Higher Institute of Music. This endeavor culminated in the formation of a polyphonic (multi-voice) choir consisting of 20 young ladies, who were well-versed in the intricacies of multi-voice choral singing techniques. Over the past seven years, nearly half of the choir's members have remained constant since its inception, while the others have come and gone for various reasons, which is normal for a choir of such scale.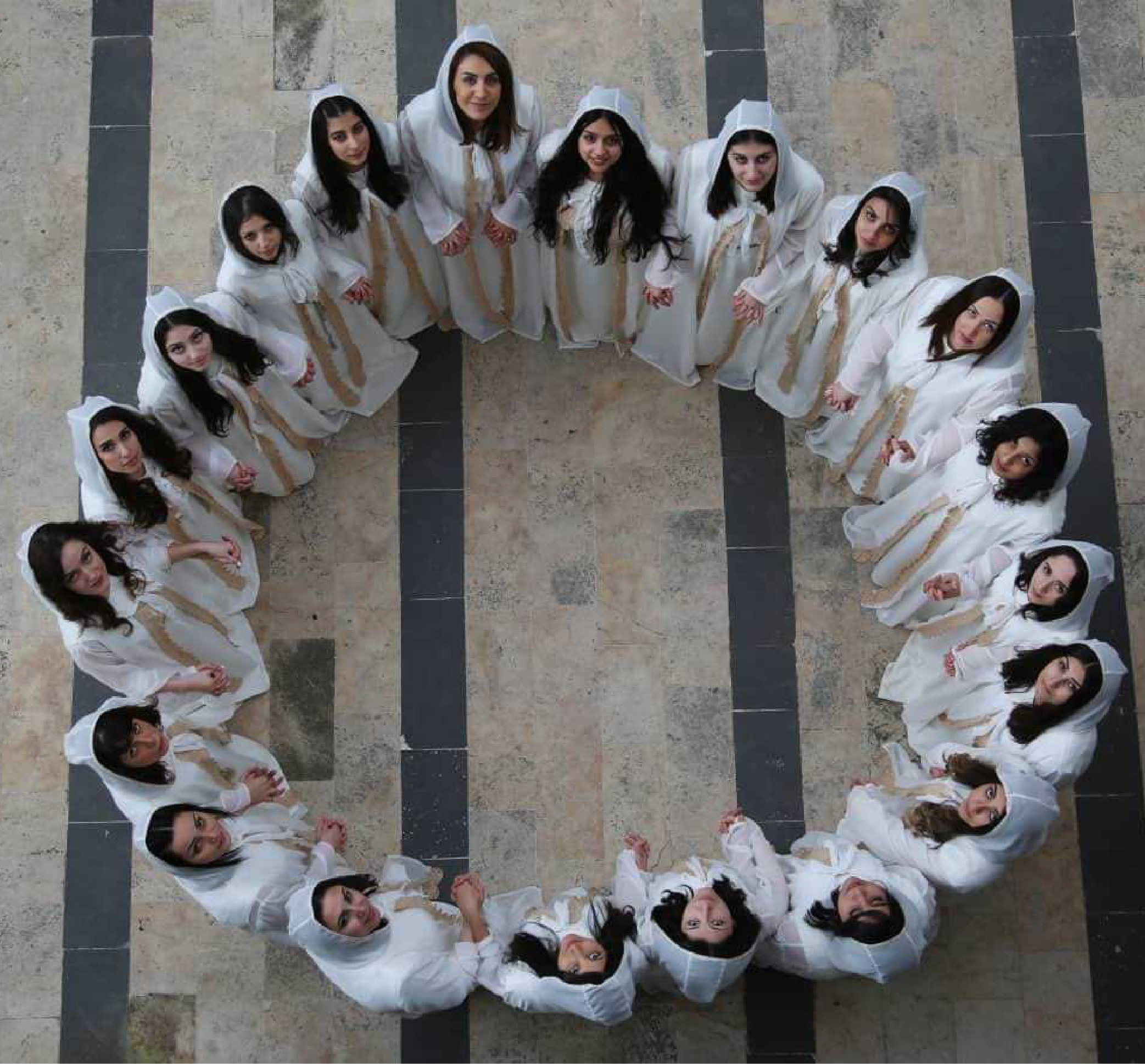 Members of the Gardenia Choir group
The first project that Gardenia Choir performed was a "classical repertoire" of works tailored for a multi-voice women's choir, where they reorganized the members' voices to align with the choir's composition. While the launch event was not particularly special, it served as a formal announcement of the choir's existence. The group had become a reality, with its own successful collective efforts, and well-structured plan, and has taken its first steps to begin its musical journey.
Safana outlines their approach, stating, "We made a deliberate choice not to recycle existing ideas or perform standard repertoires, as is common among many choirs. Instead, we aspired to create our own projects from inception to execution, from conceptualization to content development, encompassing musical arrangement and the orchestration of musical events."
I will never forget that day in the city of Jaramana, where they sang songs as part of a program named "How Wonderful It Is to Live", and I was taken back in time to when I was a little girl, to a moment in time when Syria, our beloved homeland, was beautiful
The second concert was a rendition of cartoon theme songs titled "How Wonderful It Is to Live". In this performance, they carefully selected iconic musical themes that held significant places in the memories of Syrians from the 1980s and 1990s. These melodies were arranged and distributed, tailor-made for the girls' choir, and performed at the Damascus Opera House in the drama theater. Subsequently, videos of the performance garnered widespread attention on YouTube, cementing the concert's place in the collective memory of Syrians. The project was reprised in various provinces and in Damascus, with each performance playing to a packed theater and tickets selling out swiftly.
Following this resounding success, they worked on original projects, with one of their most noteworthy projects being the creation of a musical album. In 2017, they secured a production grant from the Cultural Resource (Al-Mawred Al-Thaqafy) fund for a project to collect traditional Syrian wedding songs from all regions, as well as 14 medleys representing various regions and ethnic groups in Syria. They produced an album that was presented in a captivating concert held in Beirut in collaboration with UNESCO. Two years later, Gardenia Choir received two prestigious awards during their participation in the Middle East Choirs Competition in Dubai, United Arab Emirates: the Regional Best Choir Award and the Best Women's Choir Award.
In 2019, with a grant from the Arab Fund for Arts and Culture (AFAC), they embarked on another project titled "Women Who Loved the Divine". For this project, they selected nine Sufi poems authored by marginalized female Sufi poets throughout history. These profound verses were transformed into music by a group of composers, including Safana Bakleh and Ghada Harb. The resulting album was released just one week before the outbreak of the COVID-19 pandemic.
They did not stop despite the pandemic
Despite the challenging period that tested all independent artists in the fields of arts and music, Gardenia Choir continued to persevere. They worked on a musical theatrical project specifically written for the choir, titled "One Night After One Thousand". This production weaves together narratives from the classic tales of "One Thousand and One Nights", offering a fresh perspective from women who were dissatisfied with the way they were portrayed in Shahrazad's tales. The musical made its debut at the Syrian Opera House towards the end of 2021.
Gardenia Choir is not only committed to pushing creative boundaries but also deeply dedicated to the social dimension of their work. They aim to spread essential social values that are pivotal for Syrian society in coping with the challenges of violence and turmoil. Through their artistic expression, they aspire to serve as a voice for independent art, representing a segment of women within Syrian society. Moreover, they seek to inspire the youth, entrepreneurs of independent projects, and women, whether directly or indirectly, to take action, even in the face of initial setbacks. Ultimately, Gardenia Choir's vision is to serve as an inspiring beacon for young men and women alike, motivating them to embark on their own projects and creative endeavors.
In addition to the musical aspect, the choir is deeply committed to the social aspect, like spreading social values that Syrian society needs to confront violence and its consequences, and being an independent artistic voice that represents a segment of women
Safana Bakleh reflects on their journey, "The challenges faced by any independent group striving to operate in Syria are great, for numerous reasons. Being women in leadership and managing an independent project, we initially encountered skepticism regarding our potential and the resources available. In the beginning, we dedicated ourselves to disproving these doubts as unreasonable and unjust. However, after all that we have accomplished, we no longer pay heed to such concerns."
The "harmony" of peace and social cohesion
Gardenia Choir ventured beyond musical performances. In 2019, they initiated a community-based musical project called "Tadamon: Harmony" in collaboration with the United Nations Development Programme (UNDP). The project aimed to spread values of peace, civil harmony, and foster open dialogue among youth while advocating for social cohesion through music. It commenced with a small group in the Sahnaya area of rural Damascus, a diverse region home to a mix of residents and displaced individuals suffering from tensions. They gathered 80 young men and women who underwent training three times a week. This project resulted in three concerts held in both Damascus and its countryside.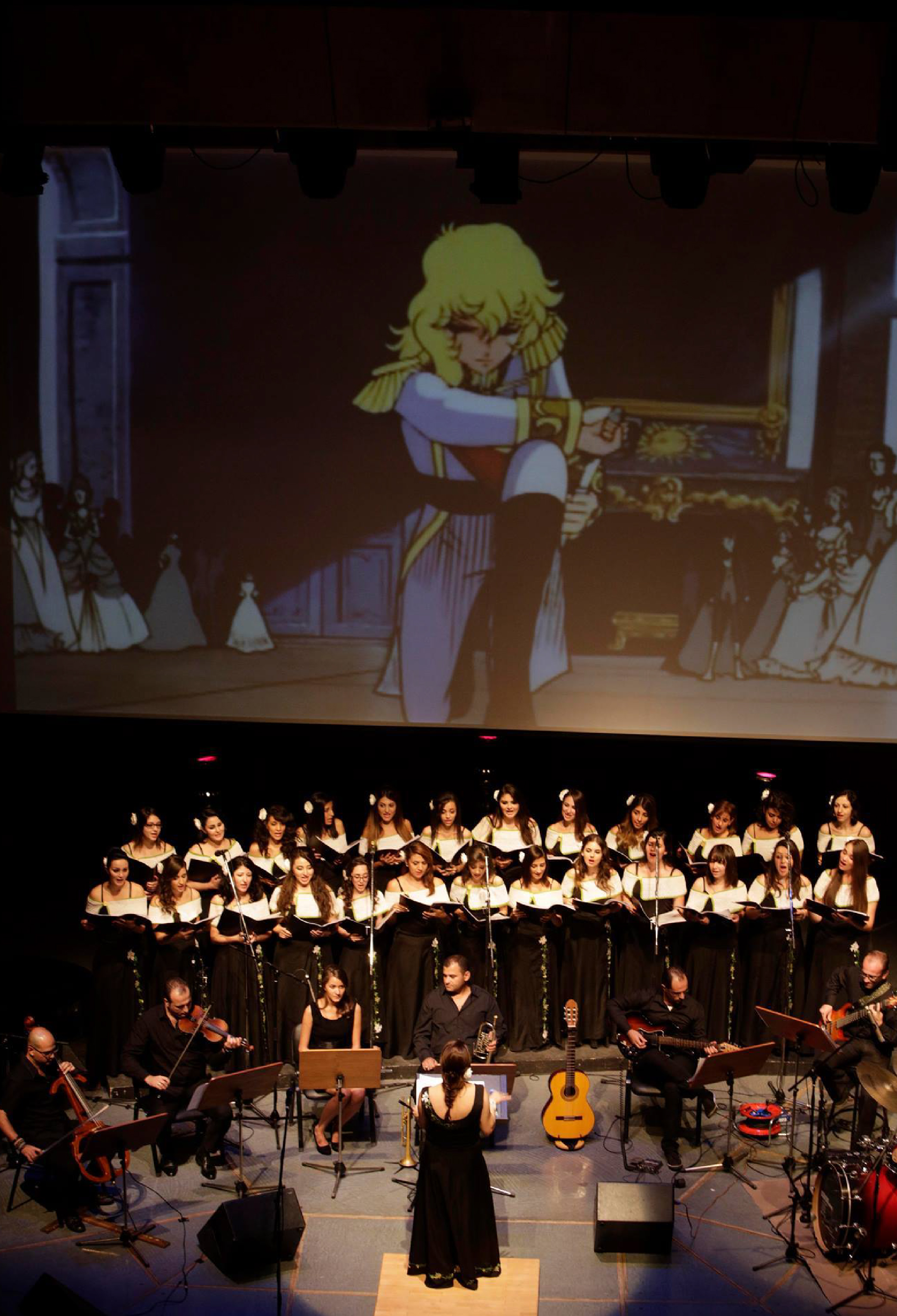 A Gardenia Choir concert
Subsequently, the project expanded nationwide, encompassing all Syrian governorates, including Homs, Hama, Tartus, Latakia, Suwaida, Daraa, Aleppo, Raqqa, and Deir ez-Zor. The number of participants in the Tadamon Harmony Choir increased to 225 young men and women. The young ladies of Gardenia Choir contributed as trainers in the project, conducting workshops and online follow-up sessions. Each workshop's output culminated in a concert in the respective province. The overall project concluded with a final concert at the Syrian Opera House, uniting all participants.
"The event was heartwarming; it represented a unique community that embodies the Syria we dream of and strive for, and how many beautiful things we can create together if we have a safe, independent, free, and honest space – and that's the most important thing," adds Safana.
I remember that during one of the concerts at Khan As'ad Pasha, the electricity repeatedly went out. Nevertheless, the choir continued their performance, their voices echoing loudly within the confines of the hall. They wove threads of darkness into a tapestry of light. Yes, these women can, and they will carry on.