Ahmed, 21, no longer sleeps well. He has lost his appetite, his health has deteriorated, and he is severely depressed. His cat ran out of the house into the street and he couldn't find her. He says she was stolen, which is a recurring case with him. He has loved cats since he was a young child. He raises them from a young age until they grow up and when they become lost, he breaks down and goes to look for them in cat stores. On one occasion, he found his lost cat at a shop in the neighborhood and got it back for 200 thousand Iraqi dinars ($137 US dollars).
Ahmed, who is from Wasit Governorate in southern Iraq, is a student in the last year of high school. "Cats have tenderness and affection. They love me, they know and recognize me, and they make up for my lack of friends. They also relieve me of the stress and pressures of studying," he tells Raseef22.
A community of animal lovers has begun to expand in Iraq over the past few years. Members see cats and dogs as an essential part of their lives. Some even suffer from mental disorders or brain and mental illnesses, and their feline friends help with that
When he first told his family that he wanted to raise a cat, they refused and said they would kick him out as soon as he brought it. He recounts, "I called their bluff and made them just deal with it. I brought one and they didn't carry out their threat. On the contrary, they cared for her in my absence, and when she was lost and we later found her, they started crying because she recognized them immediately, especially my mother."
Now Ahmed is waiting for Ramo, his last missing cat, to grow up to be an adult cat. "She is a Ragdoll cat breed. They will post her picture on social media to ask for a male cat for mating and I will be able to get her back," he says.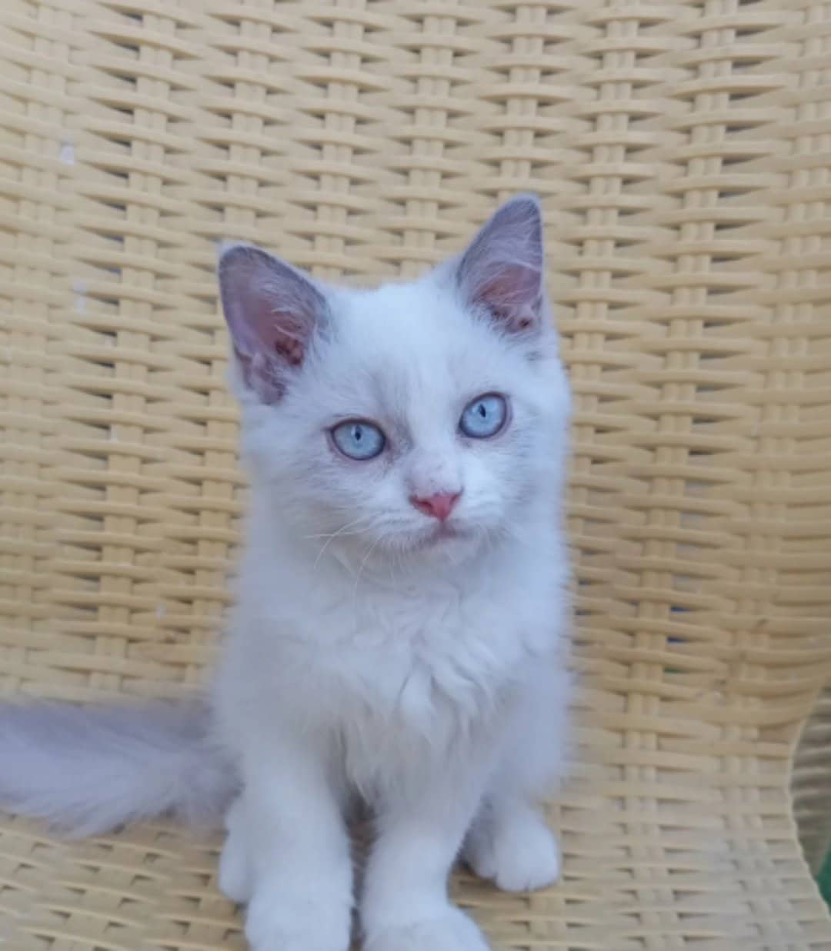 Ahmed's lost cat

Cats require mating between the ages of 5 months and a year. Those who live alone will leave the house from any opening they can find in search of a mate. Some return after the mating is over, but others do not remember the way back or are picked up by passers-by.
Ahmed is not the only one suffering from this. Israa, 30, who isn't married yet and lives with her family in the southern Iraqi city of Shatrah, is in a similar situation. Her cat, Mila, was playing by the door of the house when two strange young men approached her and stole her.
Mila is a 4-month-old Shirazi (Persian) cat, and Israa takes care of her like a baby. She tells Raseef22, "I used to bathe her, comb her hair, trim her nails, clean her nose, ears, and eyes. I would feed her the heads and legs of the chickens after boiling them and add rice, carrots and mashed potatoes along with cat food."
"My family were against owning cats. I brought one and they didn't carry out their threats. Instead, they cared for her in my absence. When she once got lost and we found her, they started crying because she recognized them immediately, especially my mom"
Like Ahmed, Israa lost her desire to eat and sleep and would spend her days and nights crying. She showed a home surveillance camera showing the moment Mila was taken. For her, having the cat by her side made her life full of compassion and humanity, "I love her so much. She used to wake me up in the morning and meow for food. Is she eating well these days? If she eats uncooked food, she will throw it up. I feel like there's a fire in my heart."
Mockery
We asked Interior Ministry spokesman Major General Khaled al-Mahna if the police were following up on cases of pet thefts, and he laughed at the issue and mocked it.
However, legal expert Ali al-Tamimi says that theft has multiple forms, including the theft of animals, and the provisions of Articles 443, 444, and 464 of the Iraqi Penal Code apply to it.
A surveillance camera shows the moment Israa's cat was playing by the door when two men grabbed her. Israa lost her desire to eat and sleep and would spend her nights crying. For her, having the cat by her side made her life full of compassion and humanity
Article 443 stipulates that a person convicted of night robbery under aggravating circumstances, such as climbing walls and entering homes, be imprisoned for 10 years, while Article 444 stipulates that those who carry out theft during the day are imprisoned for 7 years, and both offenses are a felony.
However, if the theft takes place outside the home, it is a misdemeanor punishable by Article 446 with imprisonment of less than 5 years.
"They don't know hypocrisy"
Israa and Ahmed are part of a community that has begun to expand in Iraq over the past few years. Its members are familiar with cats and dogs and make them an essential part of their lives, and the reasons for loving them and wanting to care for them are almost the same. Some of them have no friends or feel bored and restless, and some of them suffer from mental disorders or brain and mental illnesses, and these feline friends help with that.
There are childless couples who have found that this type of animal fills their emotional void, as Abbas al-Shamkhawi tells us. Abbas, who runs a Facebook group called "Dhi Qar Cats", which has approximately 6,000 subscribers, advises them on how to take care of their pets. He also sells them, and helps find missing ones.
Abbas is 43 years old and his interest in cats and dogs began during his teenage years. On his personal Facebook page, he pinned the phrase "I was born to live alone, away from hypocrites", and posts his own verses of poetry talking about the same things. I asked him about it, and he replied tersely, "It's better to stay away from people than be near them. Animals make up for them."
Abbas wrote on his Facebook page, "I was born to live alone, away from hypocrites", and says "It is better to stay away from people than be near them. Animals make up for them"
Louay, 41, said almost the same thing to me when I met him inside his shop on al-Mashatel Street in the Adhamiyah neighborhood north of Baghdad. Louay, who sells pet dogs and cats, moves in his relatively spacious store with a relaxed expression on his face. He knows a lot about them, having entered the animal world as an amateur in 2008, and then made it a profession.
In addition to some dogs and cats sleeping inside glass containers and metal cages, the store has a variety of foods and supplies such as treats, toothbrushes, toothpaste, fur trimmers, pet clothes, costumes, and pet perfumes and sprays.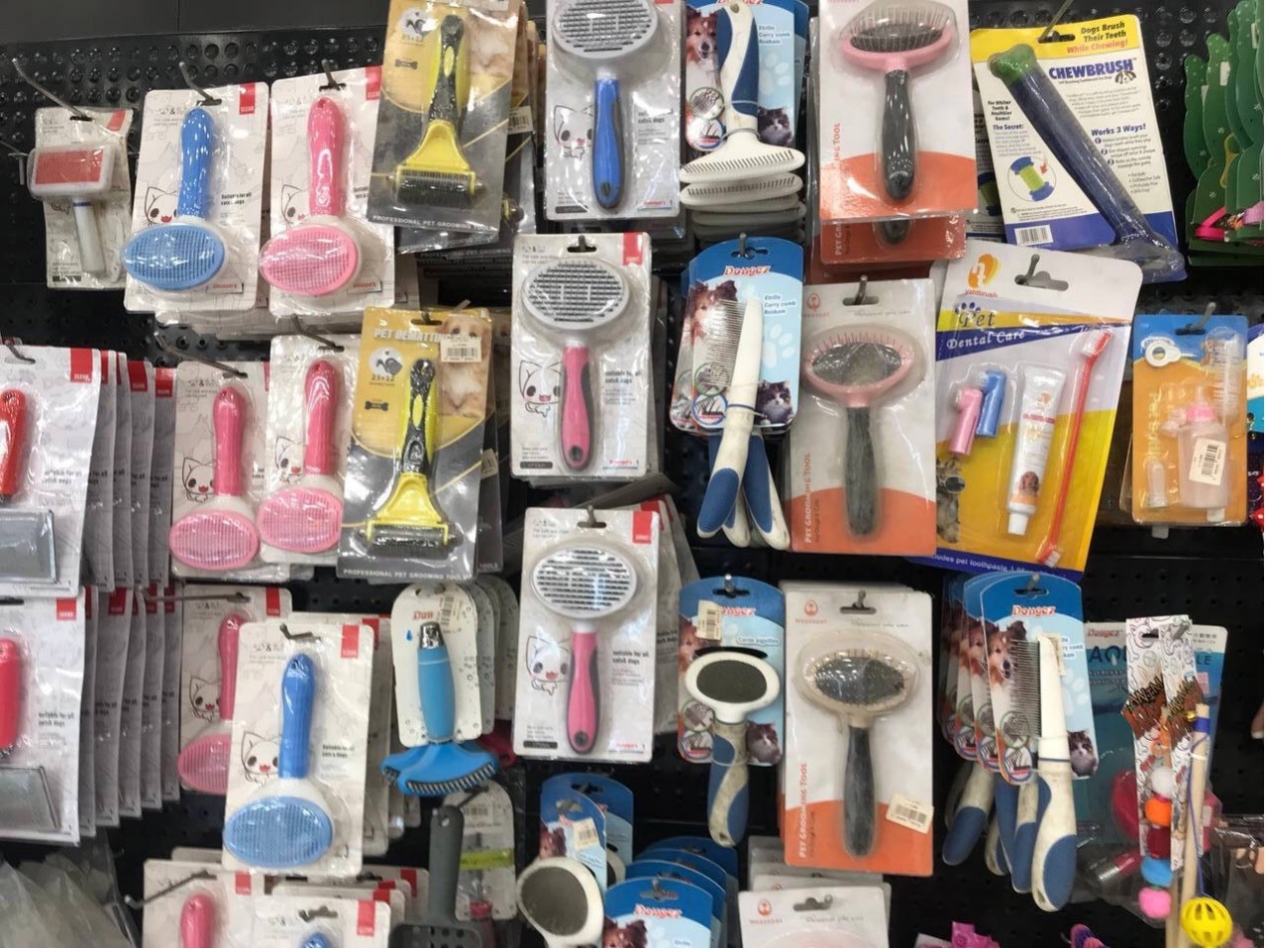 Cat grooming and cleaning supplies for sale at the store Louay works in

Most customers look for cats as young as two to three months old, because the cat at this age is more obedient and entertaining.
"Himalayan Shirazi (Persian), Chinchilla, Persian Van, Calico, Bay, Scottish Fold, Ragdoll, British, and Siberian"; these are the types of cats and dogs that Louay's customers want and ask about in his shop and nearby stores.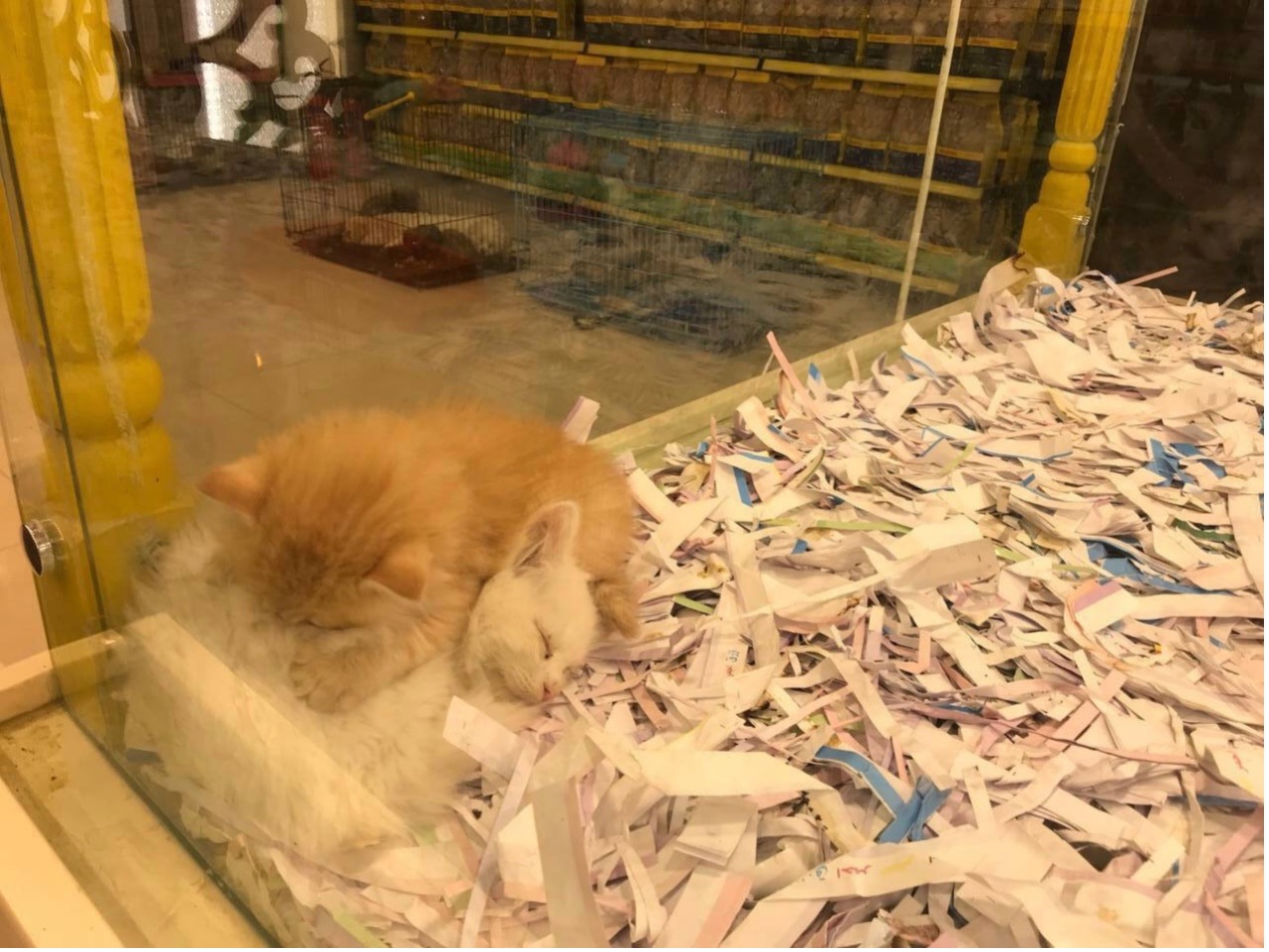 Cats for sale in Louay's store

Louay's hobby of raising pets and his closeness to them influenced his personality. He says it showed him better ways to deal with his young children. He likens them to children, as he explains their special characteristics and qualities to his clients in detail and advises them to adopt the approach of reward and punishment with them as a parenting method.
He says, "If the cat exhibits bad behavior, raise your voice slightly, and slap the ground with your hand or push it aside when it approaches you, especially if you are eating. He will know that he made a mistake and will not repeat his mistake."
He goes on to say, "Always remember that this animal has a soul like you, but it is powerless. It is not a toy, but rather like your child, and you should reach a point where you know what it wants or what is bothering it just from the way it looks at you. Do not neglect it if you see that it's lethargic, sad or withdrawn. A cat will strengthen your sense of kindness and humanity."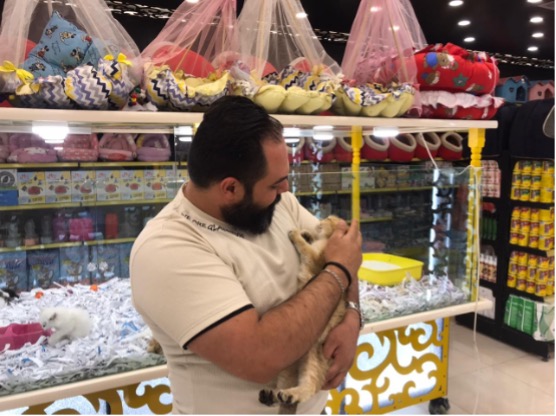 Louay playing with a cat in his shop

When Louay was a young man, a street cat ate a bird he was raising at home, and he began to take revenge against street cats by chasing them and throwing stones and hard objects at them. After a while, he found a sick cat sleeping under a car near his house during the winter, and his heart softened towards her so he helped her.
"I took her home and put her in front of the heater and then brought her some eye drops, a nutritious supplement from the pharmacy, and fed her boiled chicken breast and milk based on the advice of experts and YouTube lectures, and she got better and then lived with me," he says.
"Always remember this animal has a soul like you, but it is powerless. It's not a toy, rather more like a child. You'll reach a point where you know what it needs just from the way it looks at you. A cat will strengthen your sense of kindness and humanity"
This incident marked the beginning of a new path in Louay's life. He moved to work with his uncle and his veterinarian wife, who own a shop on al-Mashatel Street, before later going off on his own. Ever since he switched to pet and animal care, he has been able to overcome the difficult days he experiences or the general circumstances that require him to stay at home, such as security disturbances or the coronavirus pandemic, while feeling relaxed and carefree.
Currently, there are four cats in his house. He says his favorite one is Catty, "She and I have mutual feelings. I love her very much, and she feels this and feels the same way and treats me with extreme affection. I put her on my lap all the time so she could play or sleep."
Before I left the store, an elderly woman and her husband walked in with their young son. They brought him closer to a glass cage containing several sleeping cats that are on display for sale. The child touched the glass and watched the cats. His mother told me he had a brain disease and the doctor advised them to take him on tours like this to improve his behavior.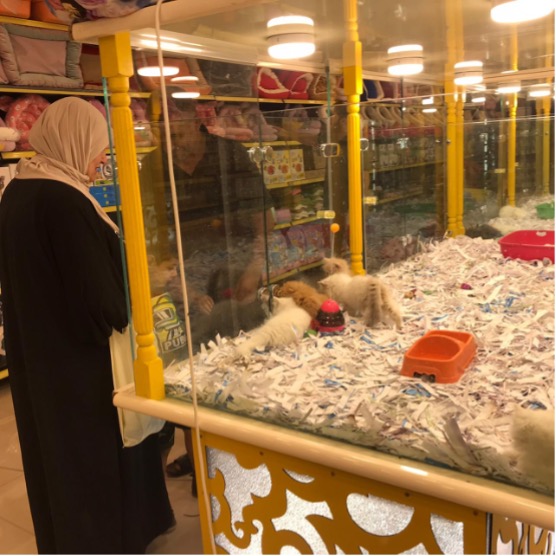 Young Hussein, diagnosed with a brain disease, watching cats in Louay's shop along with his parents

Next to Louay's Pet House store is the clinic of veterinarian Mustafa al-Nuaimi, who had just emerged from the clinic's small operating room when I ran into him. He had yet to remove his blue operating robe or wipe the blood of a cat that had a difficult delivery and he had to perform a c-section on.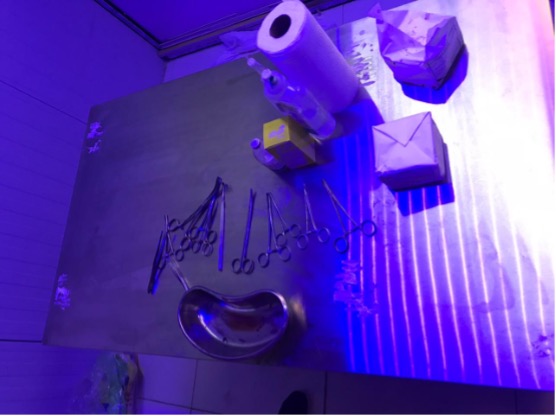 The operating room at the clinic of veterinarian Mustafa al-Nuaimi in al-Mashatel Street

"Some pet owners cling to them like a member of their family," he says after settling into his chair in the spacious hall of his clinic. He then tells me about a senior police officer who brought him a sick cat and was crying over it.
He also talked about how it feels to save an animal from death, heal its wounds and relieve its pain, and how veterinarians have found that offering free treatment for street animals encourages people to bring them to the clinic.
Next to the operating room, there was a cat moving around inside a small cage. He took it out, put it on a rectangular table, and served it food from a package. A group of young men brought this cat to the clinic after it took refuge in a popular café nearby. It was bleeding and appeared to be suffering from gangrene in its right front leg, which he had to amputate. He has been caring for the feline for months and its health has improved greatly.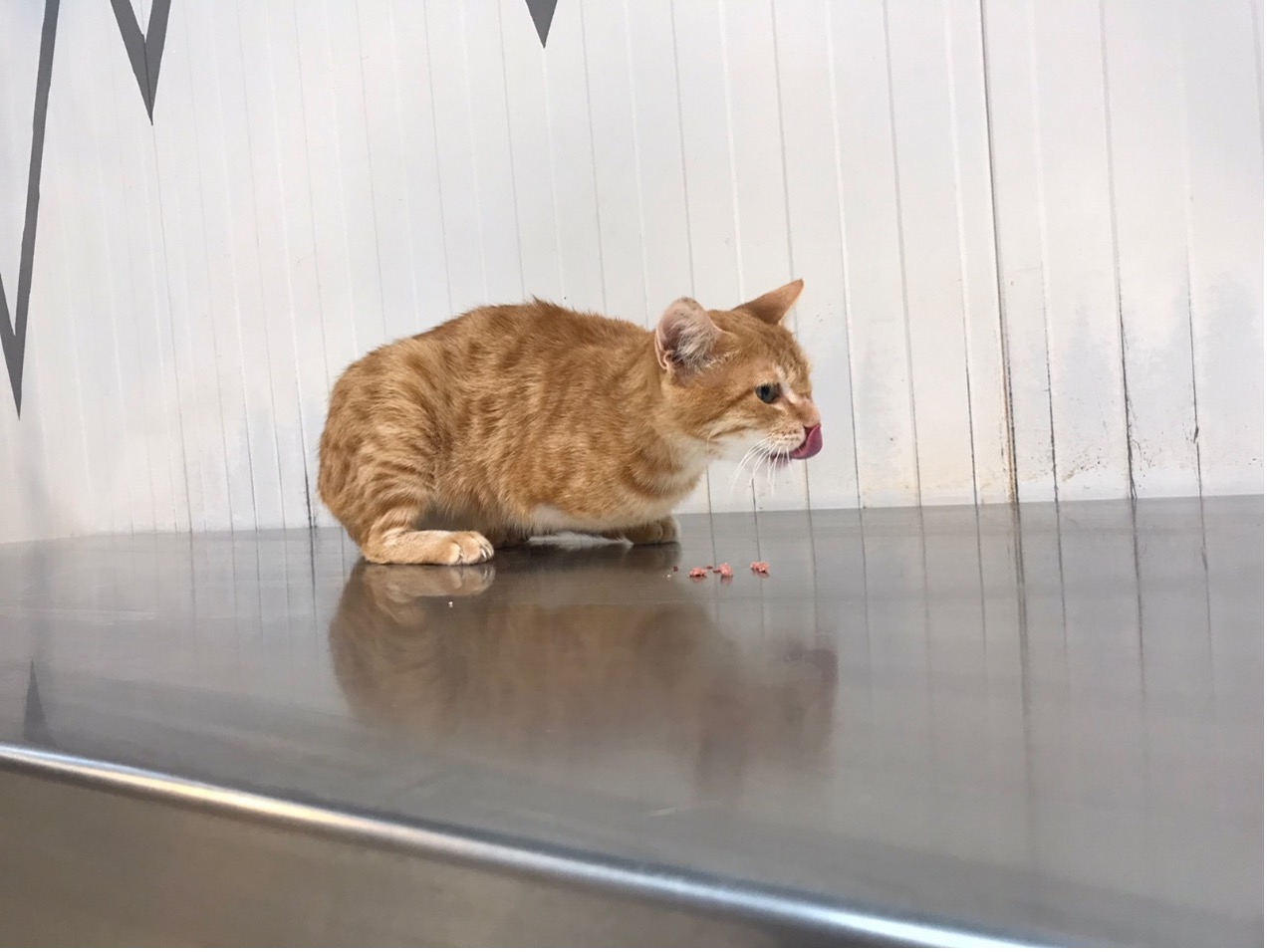 "Umm Fadel" the cat, after recovering from a severe injury

Taleb and the black dog "Aswad"
Psychology expert Qassim Hussein Salih does not advise adults to immerse themselves too much in the world of pets and use them as a substitute for humans "because it will make them move away from the real lived reality." He says that these animals are good and harmless entertainment for children and their brain composition, especially cats.
Salih has written several books, some of which deal with changes in the psyche of the Iraqi individual as a result of wars and tumultuous crises in recent decades. "The residents of this country, since its founding, haven't experienced conditions as bad as the current one as a result of corruption and the behavior of the ruling parties, and this has of course affected the psychological state of the people. Even during the war with Iran in the 1990s and later the international blockade (following the invasion of Kuwait in 1990), the situation was not this bad," he states.
While speaking to me, the founder and president of the Iraqi Psychological Association recalled his dog, "Aswad". When he was young, he lived with his family in a village on the banks of the Gharraf River in southern Iraq in the late fifties of the last century, and had a black dog that he loved dearly.
Once, a jackal ate one of Salih's family's chickens, "I called out to Aswad and told him that the jackal ate the chicken and he went after it and then came back with its dead body and threw it in front of me."
After he left the village to study, he received news that the dog had died, "I was deeply saddened and when my friend, Talib al-Qaraghuli (a well-known Iraqi artist and composer, 1939 - 2013), asked me about the reason and I told him, he laughed and took me to a bridge over a river and started to console me by singing. The image of Aswad is imprinted in my mind. It's as if I'm seeing him at this moment right in front of me," he ends his story with sadness heavy in his voice.
Raseef22 is a not for profit entity. Our focus is on quality journalism. Every contribution to the NasRaseef membership goes directly towards journalism production. We stand independent, not accepting corporate sponsorships, sponsored content or political funding.
Support our mission to keep Raseef22 available to all readers by clicking here!