Saturday 25 September 202112:33 pm

إقرأ باللغة العربية:
يعيشون على أمل أن "يرنّ بخبر عن الأحبة"... الهاتف رفيق عائلات المخفيين/ات قسراً في سوريا
What is hope? For the families of detainees and those forcibly disappeared at the hands of the Syrian regime or other factions that control - or used to control - certain areas in Syria, it is a phone call, it is a text message, it is a WhatsApp message that brings good tidings of a loved one or relative, after several years without any news of him/her.
To this day, the phone continues to be the companion of those who are still waiting. It does not leave their side.
Forced disappearance (or enforced disappearance), as defined by the United Nations, occurs when "persons are arrested, detained or abducted against their will or otherwise deprived of their liberty by officials of different branches or levels of Government, or by organized groups or private individuals acting on behalf of, or with the support, direct or indirect, consent or acquiescence of the Government, followed by a refusal to disclose the fate or whereabouts of the persons concerned or a refusal to acknowledge the deprivation of their liberty, which places such persons outside the protection of the law."
This crime was practiced by the authorities in Syria as well as by a number of the factions that took part in the war that came following a popular revolution calling for freedom and democracy in March 2011.
The United Nations declared the 30th of August of each year as the International Day of the Victims of Enforced Disappearances. On this occasion, "Families for Freedom", "The Association of the Detainees and the Missing in Sednaya Prison (ADMSP)", the "Caesar Families Association", the "Ta'afi Initiative" and "Massar: Coalition of Families of Persons Kidnapped by ISIS – Da'esh" joined forces and organized an event in the German capital meant to draw the world's attention to the issue of the missing and forcibly disappeared persons in Syria. The event saw them placing more than 300 phones in Berlin's Bebelplatz Square, to symbolize all the Syrian families who are waiting for news of their loved ones.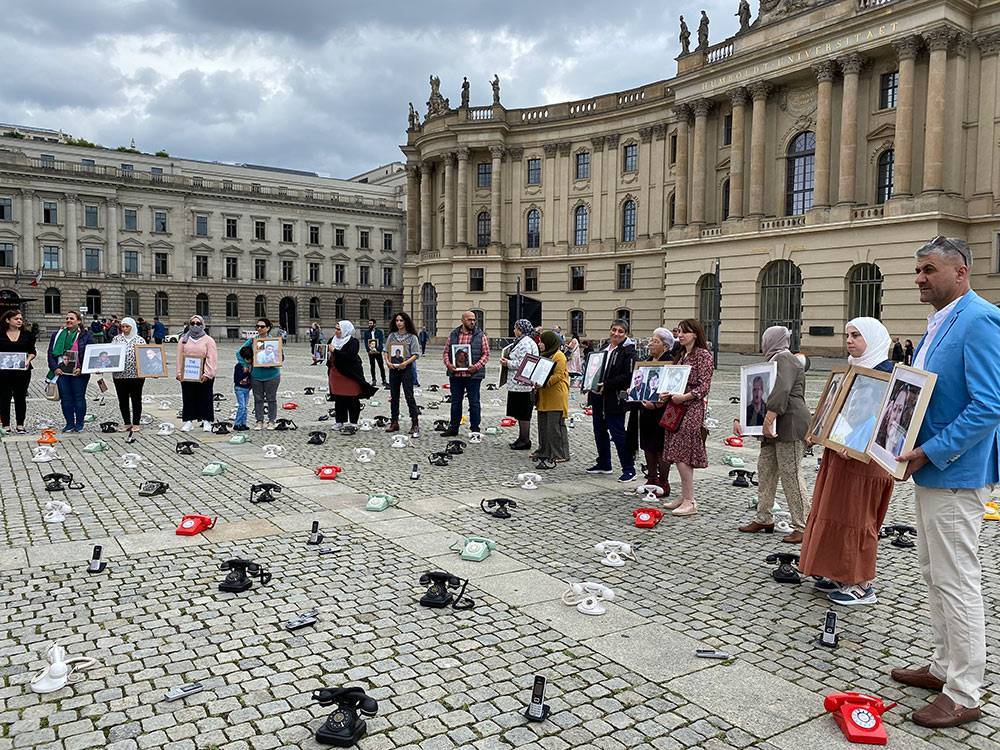 This place, a public square crowded with people, was chosen to draw the attention of passers-by and tourists of all nationalities, in order to raise awareness on enforced disappearance in Syria, and so that people become more involved by calling on their governments to take immediate measures to have detainees and those forcibly disappeared released and provide answers to their suffering families. This is what Mais, a member of the event's organizing team, told Raseef22.
The Phone Represents Hope
"We stand in Berlin with the families of detainees and forcibly disappeared persons in Syria, because Germany has the largest concentration of Syrian refugees in Europe, to remind the world of the International Day of the Victims of Enforced Disappearances and that there are tens of thousands of forcibly disappeared persons in Syria," says Mais, who prefers not to speak using her full name. She adds, "Their families do not know anything about them. Some of them have been missing for eight and nine years, and they are still waiting by the phone for news of their detained loved ones. Why were they arrested? Are they alive or dead? In the event of death, what was the cause of death? And how? Where is their grave? The people have the right to know and are demanding answers from the Syrian regime and all the armed groups that committed the crime of enforced disappearance. They are calling on them to end the use of enforced disappearance as a means of pressure on communities."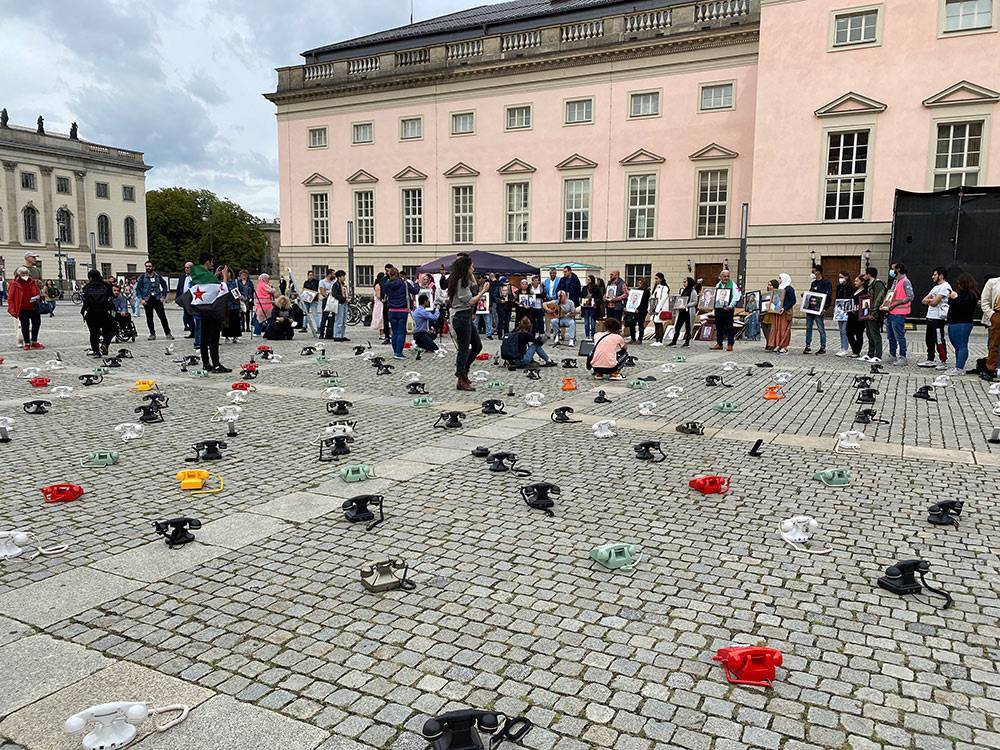 "Their families don't know anything about them. Some have been missing for 9 years, and they still wait by the phone for news of their loved ones. Why were they arrested? Are they alive? In the event of death, what was the cause? Where's their grave?"
Why the phone? Mais answers, "Because the phone represents hope, the hope that it will ring with news of loved ones. When you have a forced disappearance in your family, the phone becomes something like a friend and companion. There are some families with us today who found pictures of their loved ones in the leaked Caesar files, which include pictures of those who were killed under torture in Assad's prisons, but many of them still have hope, if only for a grave to visit, or for news that the contents of these files are not true. The lives of these people are on hold, they cannot move on without knowing the truth."
Not a Day Goes by that I Do Not Demand their Freedom
The wife of Dr. Abdulaziz al-Kheir, 70, and mother of Maher al-Tahan, 40, Mrs. Fadwa Mahmoud, is one of the founders of the Families for Freedom movement.
She tells Raseef22, "My husband and son have been forcibly disappeared since 2012. They took part in the delegation of the National Coordination Committee that had been formed in China at that time to discuss a peaceful political solution in Syria. Upon their return to the airport, they were arrested, and since that date I do not know anything about them. And for me, the issue of these detainees is my cause everywhere and at all times, and in every situation I demand that the fate of the forcibly disappeared and those detained be disclosed by all parties. We who are living abroad can talk about this cause, and we are the voice of the families who are still in Syria but cannot speak about the disappearance of their sons."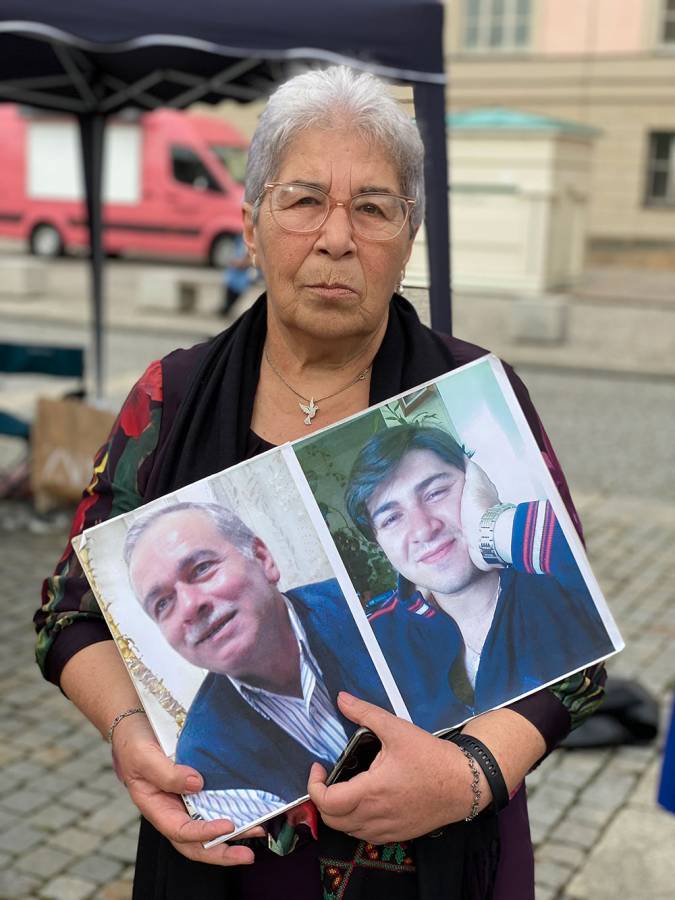 Speaking on her relationship with the phone, Mahmoud discloses, "I am always waiting for a phone ring to bring me news, information, or a sign that makes my heart soar or reassures me about them. The phone ringing at certain times like midnight or early in the morning motivates me and gives me hope that there may be news of them. The phone is my constant companion."
"Some families found photos of their loved ones in the leaked Caesar files...but many still have hope if only for a grave to visit, or for news that these files are incorrect. The lives of these people are on hold, they cannot move on without knowing the truth"
She continues, "My friends, colleagues and I believe that change will not come tomorrow, but the work we do, and the demands - always and wherever we are - are cumulative, so that this issue isn't forgotten. We are their families and we have to keep this cause alive. I believe that not one day should pass without doing something for them or calling for their freedom. Yes, I have hope, as a mother and as a wife, that we must live for. Injustice and tyranny cannot last forever."
The Syrian Observatory for Human Rights estimates that there are about 200 thousand missing persons in Syria, stating that nearly half of them are in the regime's prisons.
Waiting for Good News
Amin Mulla Khater, 62, was a lecturer at the AlFourat University and the Technical Institute of Veterinary Medicine in Dir al-Zour. He was with his wife, Samar Alouni, when they passed a military checkpoint six years and eight months ago. There, he was arrested, and Samar, along with her two sons and daughter, hadn't been able to know anything about him from that day on.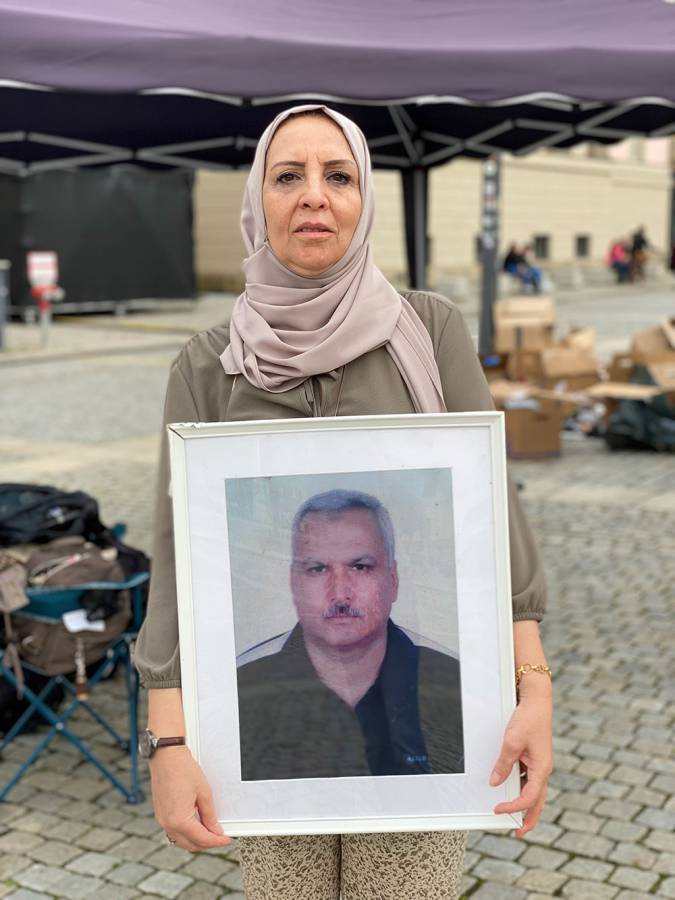 Samar stands in the public square holding a photo of her husband, as she tells Raseef22, "My husband was arrested by the regime, but today I do not know where he is and with which group in the conflict he may be. Like everyone else, I am waiting for any piece of news that would tell me if he is alive, or dead, God forbid. We live on hope, and we demand their release. We demand accountability, we demand to know where they are. Where are the bodies of those who are dead? We demand justice."

She indicated that she was waiting for the phone to ring to bring her some "good news" saying that "they have been released. Come see him".
Waiting for a Phone Call from our Loved Ones
Karim Suleiman, a Syrian citizen journalist, also stands in the public square carrying a photo of his brother Muhammad Ali Suleiman, 36, who has been detained for eight years by the Syrian regime. He is there "to send a message to the world on the International Day of the Victims of Enforced Disappearances that we still have hope. We have not surrendered, for the sake of our loved ones inside the prisons and detention centers of the Assad regime, al-Qaeda, ISIS, SDF (Syrian Democratic Forces) and other terrorist factions that have forcibly disappeared our loved ones. We would like to tell the international community that we are here and we are waiting for a call from our loved ones telling us that they are fine or that they have been set free," he tells Raseef22.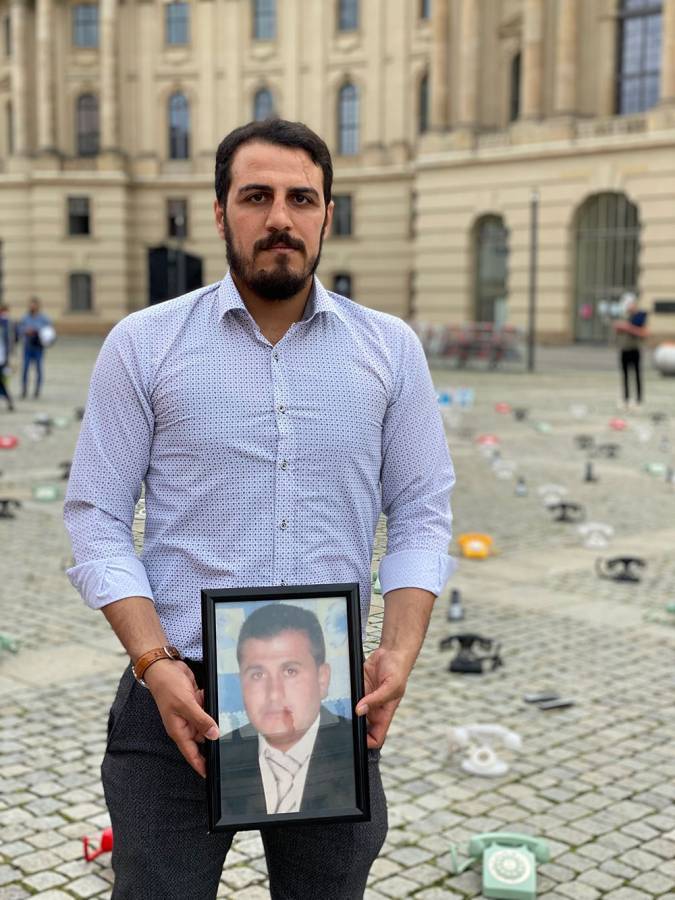 He adds, "Although my mother received a call in 2015 from an unknown person telling her that he was killed under torture, she did not believe this story because she never saw a body and lives in the hope that he is alive and that one day he will return. We are waiting for any piece of information about him, any unknown number from Syria that would call, text or WhatsApp us, in the hopes that my brother will be on the other side of the conversation."

A Source of Hope and Pain
Raya al-Homsi, a member of Families for Freedom, stands with a photo of her fiancé Yamen Albage, 41, whom she met in 2010. The revolution and a passion for change and freedom brought them together, and they agreed that if something happened to either of them, the other must carry on. But, as she tells Raseef22, she never imagined that she would be the one who would have to keep going, since a life filled with remorse and waiting is hard and the road is long.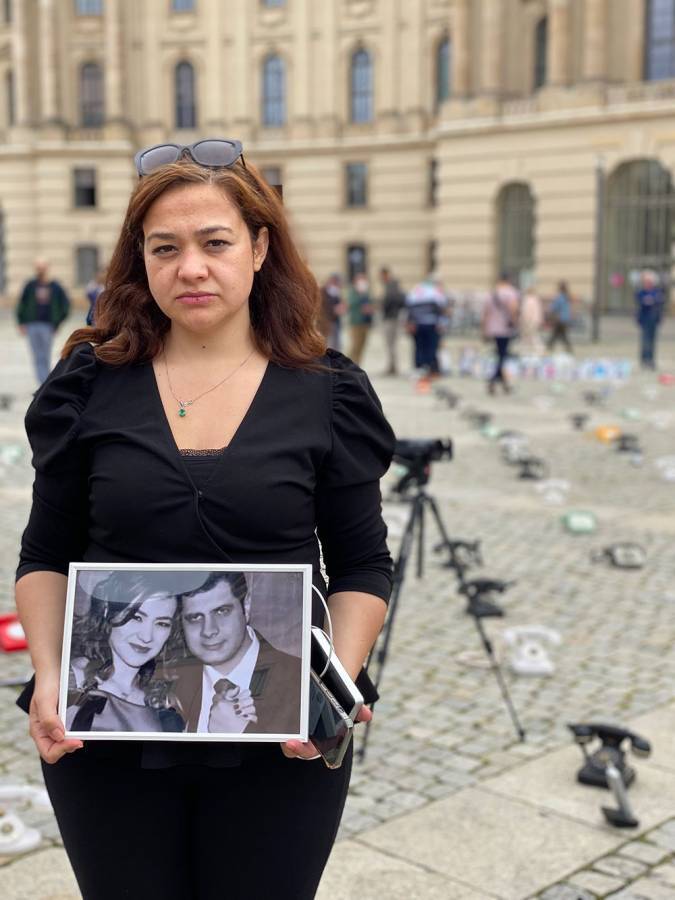 Yamen was arrested in 2012 at the building where he worked as a communications engineer. She comments, "We are here to send a strong and important message that says we have the right to know where the detainees are, a question we have been asking for years, and despite its simplicity, it unfortunately does not have an answer. We are here to express our suffering as we wait, our lives subject to a phone call, to news that we may hear about those who have been gone for years. Our lives are no longer the way they used to before they disappeared."

"I'm always waiting for a phone call to bring me news, information, or a sign about them. The phone ringing at certain times like midnight or early in the morning motivates me and gives me hope that there may be news of them."
On hope, Raya says, "We cannot be without hope. Sometimes I think that telling them to stay alive and strong under all this torture and all these years is selfish of us, but hope is what keeps us waiting."
Al-Homsi explained that she has a painful relationship with the phone, "The moment Yamen disappeared, his phone was turned off, so I became afraid whenever the phone of any person I called would be switched off. For many years we waited for our phones to ring with news that he has been released, or of any new information about him. This is a source of both hope and pain."
Show the comments