Thursday 10 June 202111:20 am

إقرأ باللغة العربية:
"وجهة رائعة للعيش رغم الصعوبات"... كيف تصمد فتيات عربيات في إسطنبول؟
Istanbul is an exceptional city. What happens in Istanbul might stay in it forever, as memories, events, and situations. Those who are living in the city can shape their own personality the way they wish to, removing all masks, and breaking all the taboos that they had acquired back in their homeland, their societies, and their circles.
But Istanbul is a difficult city to live in. It gives you plenty, but it takes even more from you. If you strive for it, you will need to fight with public transportation on a daily basis, even jogging after taxis and working more than one job or for long hours.
In the midst of all this, we wonder: How do Arab girls survive in Istanbul? What are their motives? And what is going on behind the curtains of the battle to survive?
Studying and Complete Immersion in Work
Alaa, an Egyptian girl in her twenties, was accepted into the Department of Electrical Engineering at Ataturk University a year and a half ago. She chose Istanbul to continue her studies due to its popularity with Egyptian students pursuing an education experience outside Egypt, as well as its relatively low tuition fees and living costs compared to other countries.
Istanbul is a difficult city to live in. It gives you plenty, but takes even more in return. How thousands of Arab girls survive in this city.
She recalls her memories of when she began living in Istanbul, recounting to Raseef22, "When a young lady comes to Istanbul, plenty of paperwork and procedures concerning residency and the certification of academic diplomas await her. I trusted an Egyptian young man and assigned him to undertake these tasks, and after being absorbed with the details of everyday life there, I found out that he had scammed me of the amount of 1,500 US dollars."
Despite her young age, she confirms that, "In addition to my studies, I work as an employee in the customer service department for a private company, and during times of high pressure, this job is like hell, but I put up with it, because I have to live here and not burden my family with my own needs and requirements."
Endless Expenses
For her part, Doaa, a Palestinian young lady, came to Istanbul two years ago to complete her higher studies following a painful break-up, due to the city having a good reputation when it comes to higher education. She tells Raseef22, "When a considerable sum of money fell into my hands as an outcome of the separation, I decided to allocate it to continue my studies. My family gave me their full support so that I could get over the events of my separation and start a new life."
The young lady, who is in her twenties, continues her tale, albeit a little timidly, "I was excited, but the Coronavirus disrupted everything, and all studying became remote. I saved the amount of money aside for when the Covid crisis passes and education returns the way it was so I could enroll in the university. Until then, I decided to start working."
As she recalls her suffering in this city, she says, "I rented a small apartment for a thousand (Turkish) pounds a month, and I also pay about four hundred pounds a month for water, electricity, heating, and the internet. All these are expenses that do not include food and transportation."
She adds, "I work as an accountant twelve hours a day for 2,500 Turkish liras (about $300), and for a total of five or six days a week, and I don't have time for myself. Now I am anxiously waiting for my family to come, so that I could relieve myself of the trouble of living alone here."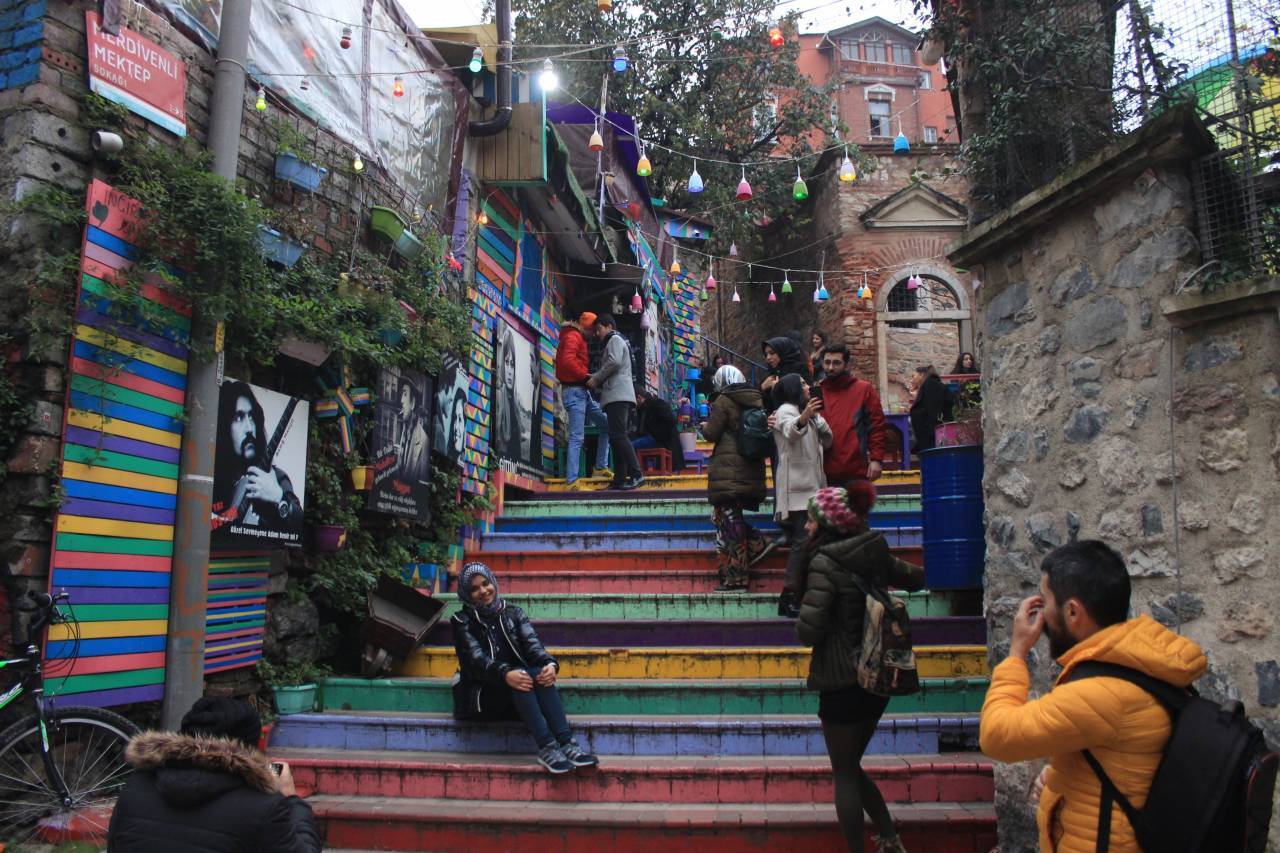 From the city of Istanbul - Photography by Mohammad Al-Shami

A Diverse City Despite the Hardships
As for Abeer, a thirty-year-old Palestinian young lady, she came to Istanbul six years ago for work, out of a deep motivation to explore a city that everyone — from friends and relatives all the way to the media — is talking about.
Abeer currently works as a secretary. Before this, she had changed several jobs, after she noticed how the opposite sex merely noticed her gender and only saw her as a woman instead of a fellow colleague. It even amounted to her getting explicit requests from some of her co-workers to have intimate romantic relations with them, with even some relentlessly blackmailing her — such as threatening her with dismissal from work or delaying her salary — to reach this end, but she refused to succumb to sexual extortion. "They think that any girl, especially a foreigner to the country, is willing to volunteer and offer herself in exchange for a few privileges," she remarks to Raseef22.
Talking about Istanbul and its troubles, she angrily asserts, "The salary ends before the month does. This prompts me to take a salary advance from work or my friends, and so the cycle starts again every month, between being in debt, repaying debt, and living expenses. In Istanbul, anyone can survive on a thousand or five thousand Turkish liras. It is the person that determines this through the style and standard of life he/she wants."
Despite this, Abeer loves life in Istanbul, since it is freer and much more open than what she is used to back home. It is also very culturally diverse.
Working and Learning the Language
Noha, a Syrian girl in her thirties that has been living in Istanbul with her family for about ten years, talks about the most prominent fields that Arab girls can work in within this city, "Those who are uneducated work in sewing workshops, clothing stores, cleaning houses, while a doctor works in the black market — i.e. illegally — and a lawyer, if she learns the language, can work as a mediator for a Turkish lawyer. A young lady, if she has good luck, can end up giving private lessons to Arab students."
The field of health and medicine heads the list of professions that are prohibited for foreigners to practice in Turkey. They include: pharmacy, medicine in its various fields, law and legal practice, notary, nursing and midwifery, in addition to security and marine navigation. This pushes those residing in Istanbul and carrying diplomas in the aforementioned fields to work in them unlawfully and "under the counter", and through agreeing to minimum wages.
My salary ends before the month does, causing me to take an advance from work or friends. The cycle begins every month between repaying debt and living expenses. Despite this, I love Istanbul life
In most cases, the system of how the work will be done is usually agreed upon orally, to evade any legal liabilities and get rid of any financial burdens. Wages are often calculated on a daily basis, with monthly salaries starting from 600 to 6,000 Turkish liras ($70 to $700). Whereas a good quality of life requires at least 3,500 liras, including housing — which costs somewhere from 1,200 to 1,600 liras in an active region of ​​Istanbul, and 900 to 1,200 liras in areas far from the city center. It also consists of transportation expenses, which average at 500 liras, in addition to food, drink, and clothing — which require about 1,000 liras — not to mention some sort of recreation such as going to restaurants and guided touristic tours.
According to Noha's explanation to Raseef22, working for Turkish office owners and companies requires proficiency in the Turkish language. Some of them, as in the field of real estate marketing, even require proficiency in other languages ​​such as English, Arabic, Persian, Chinese, and French, in order to attract customers. This reflects the scale of the difficulty of finding job opportunities there due to the language barrier, despite there being plenty of competency when it comes to skills.
As for learning the Turkish language, it has become the main aim of job seekers. This made the education centers open their doors at symbolic prices. Learning all six levels costs about $80, and about $500- $1000 for university students who need to learn advanced levels, with the time of study taking about nine continuous months on average, according to Noha. The Turkish language is considered easy to learn, as its vocabulary is mostly close to that of the Arabic language, but most Arab residents do not learn it properly unless they have daily and continuous contact with Turkish people.
Many factors, notably the political situation, wars, social conditions, living hardships and psychological exhaustion, pushed over a million to migrate to Istanbul in search of decent living and a heaven to live in.
Divorced, with a Child Without a "Kamlak"
Khadija, a 25-year-old Syrian woman, has lived in Istanbul for six years and came here with her family due to the events of the Syrian revolution. She later married a Syrian man in Istanbul, was later separated from him, and now has a three-year-old daughter. She tells Raseef22, "Since this girl was born, her father has been evading his obligations and responsibilities towards her, and when I wanted to get her a 'kamlak' — a temporary protection card given to Syrians in Turkey — the procedure required the father to be with us. I have tried for three whole years, until God sent me an employee with a kind heart. He helped me extract the paper that we must use in every procedure that we do."
She continues, "Since I bear the responsibility for my child on my own, I worked in kindergarten with a salary of 800 Turkish liras, which is equivalent to approximately $100, and does not suffice for anything. Being a divorcee in Istanbul, I did not escape the sharp tongues of Arabs unscathed. They often tell me that I was the reason for my separation, that I had to put up with it, that we are expatriates outside our own country, and that 'having the shadow of a man over you is a blessing'."
The Cost of the "Kamlak" is Freedom of Movement
On the other shore is Iman, a Syrian girl in her twenties who fled the war in her country in 2013 and sought refuge in Istanbul. She tells Raseef22, "At the start of our arrival, they would give us a visitor permit, then they canceled it and gave us the 'kamlak'. According to this residency, we are refugees, and it is automatically canceled as soon as we leave Turkey. We are also not entitled to move from the region that issued it without permission to travel."
As for other residencies, such as a work residency — which requires the presence of an investment, a partnership, or an official employer — it is difficult to obtain due to its complex procedures, according to Iman. In addition, tourist visas require sums of money that may exceed $500 and include renewal or passport attestations from the Syrian consulate every two years. "All of this is draining, and that is why most Syrian women enjoy the free medical care, medicine, and aid provided by the 'kamlak', but this costs them the price of freedom of movement."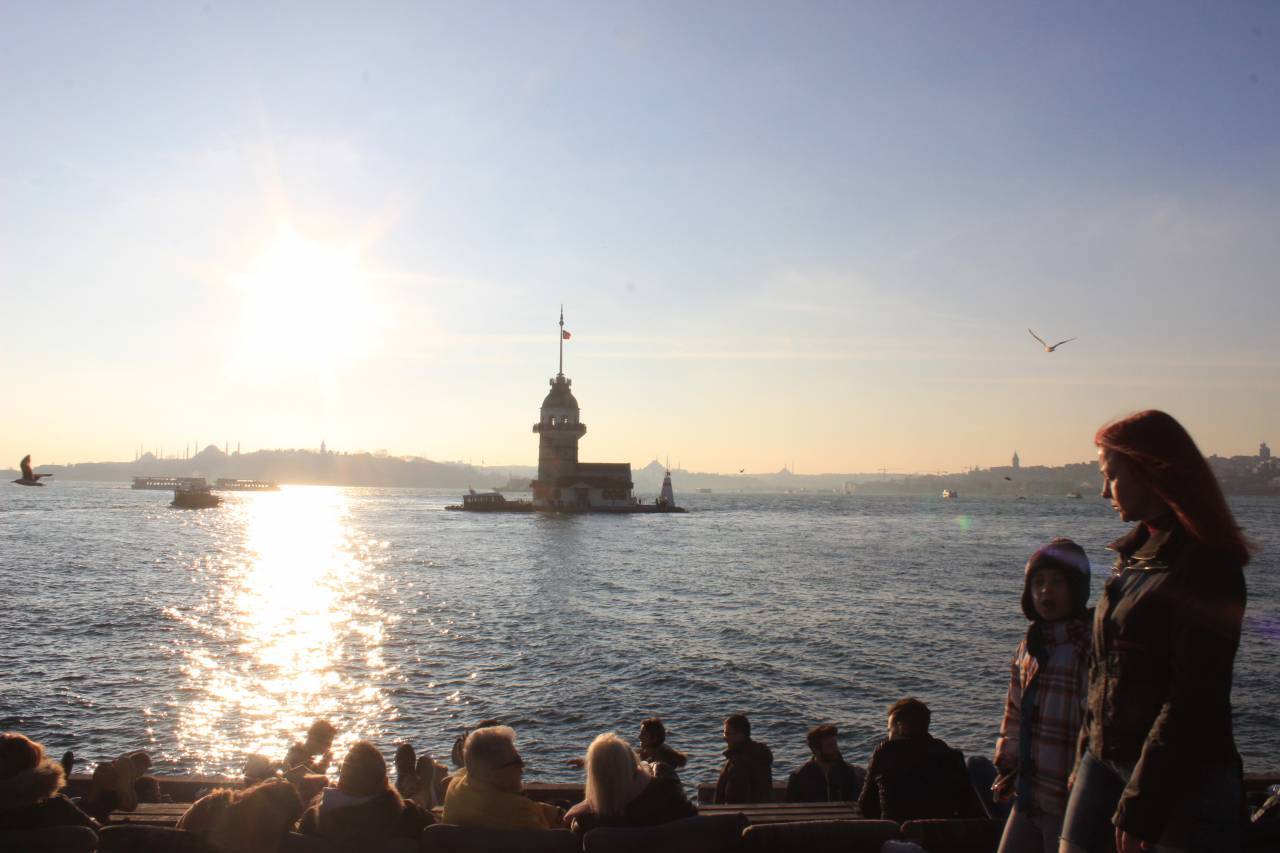 From the city of Istanbul - Photography by Mohammad Al-Shami

Three Nights in Prison
Yasmine, a 25-year-old Algerian girl, came to Istanbul three years ago in search of work and obtained a tourist residency. Although Turkish law does not allow residents to work without obtaining permission, Yasmine found herself working in the tourism sector without a permit. A while ago, she was surprised by the police suddenly showing up inside their work site and asking the crew to show their 'kamlaks'. They then pulled her from the group and took them to prison.
Her Iranian friend Elisa, 29, who works in the same stressful field tells us the story of Yasmine. She recounts, "Yasmine spent three whole nights in prison, and then got out after her manager assigned her a lawyer to follow up on the case. She is now under threat of being deported from Turkey, pending the decision of the court."
So, why does Istanbul continue to receive more Arab girls every day? Noha summarizes the cold reality for us by saying, "Perhaps the tv shows are the reason, since they are the first and foremost media marketing tool that portrays Istanbul as a wonderful place to live in with tons of job opportunities, and a very free and open life with great diversity. But all of this is in fact difficult to achieve."
The number of foreigners residing in Turkey exceeds one million, and many factors, most notably the political situation, wars, social conditions, living hardships and psychological exhaustion in their own countries, push them to migrate to Istanbul in search of a tender harbor to welcome them, beautiful scenery, and a decent living.
Show the comments