Monday 3 May 202106:55 pm

إقرأ باللغة العربية:
"ما فينا نشتريها كل يوم"... حلويات رمضان ضيف ثقيل على موائد السوريين واللبنانيين
"Ramadan this year is not like any previous Ramadan," is a phrase many residents of the region — with its declining economic conditions — are repeating every year, regretting how their conditions have deteriorated in the month that is dear to their hearts.

But this year already looks different particularly in both Syria and Lebanon — two countries that have experienced unprecedented economic collapse in recent months. The value of their currencies has collapsed, prices have risen, and it has become difficult for many families to manage their livelihoods and maintain the same standard of life that they were accustomed to. So, what if we were talking about Ramadan, the month of food, banquets, various types of food and desserts that these two countries are famous for, and of which the rituals of celebrating it are not complete without them?
We Limit Ourselves to Simple Sweets
In the middle of Jazmatiya Street in Damascus's al-Midan neighborhood — the most popular area for selling sweets in the city — the bicycle cart on which Abu Alaa sells pieces of sweets is crowded with customers, while the street becomes busy with shoppers as the hour of iftar (when Muslims break their fast) approaches. The 40-year-old man calls out to promote his goods, which consist of "warbat" — a thin, crisp dough, with cream and syrup — each piece at the price of 500 liras (15 cents). They also consist of "osmalia", a sweet made of coarse vermicelli noodles, cream, and syrup, with each piece priced at 1,000 liras (30 cents).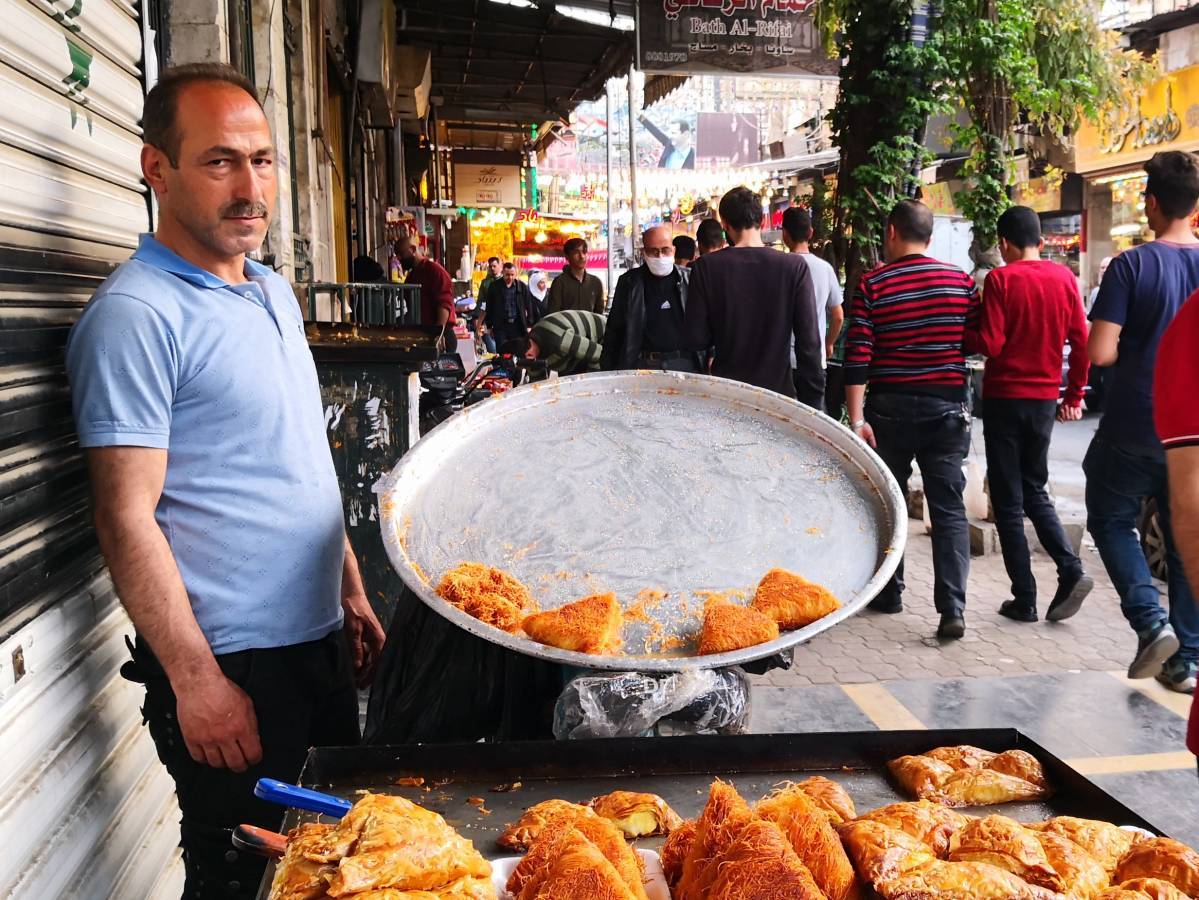 Sweets vendor Abu Alaa in Jazmatiya Market in Damascus - Photo by Zeina Shahla

Abu Badawi, a man in his fifties, stands next to the bicycle cart and asks for three "warbat". He says that it is the only kind of dessert he can buy for his little family today, in order to bring the "joy of Ramadan" to their hearts. "Last year we used to buy simple sweets from stores, such as 'harissa' or 'nammoura', but today, I do not dare enter any store and ask about their prices," he adds to Raseef22, explaining his situation, despite being a government employee today.
'Harissa' and 'nammoura' are among the cheapest types of Ramadan sweets, as they are made of dough, cream, and syrup. The price of one kilogram of these desserts does not exceed 10,000 Syrian pounds (about $3 US dollars), but it is an expensive amount when compared to average salaries and wages in Syria, which do not exceed $30 US dollars.
Because he sells some of the cheapest types of sweets, Abu Alaa tells Raseef22 that the number of customers that visit him this year has relatively increased due to the reluctance of many to buy lavish sweets. Although his prices have doubled over the past year, without a noticeable increase in the average income in Syria, his bicycle cart — on which he perfectly balances two large metal trays — remains a destination for dozens of passers-by every day. "Thank God not once did I return home without having sold everything that was on my cart, and of course I do not forget the share of my family and six children of these delicious sweets every day."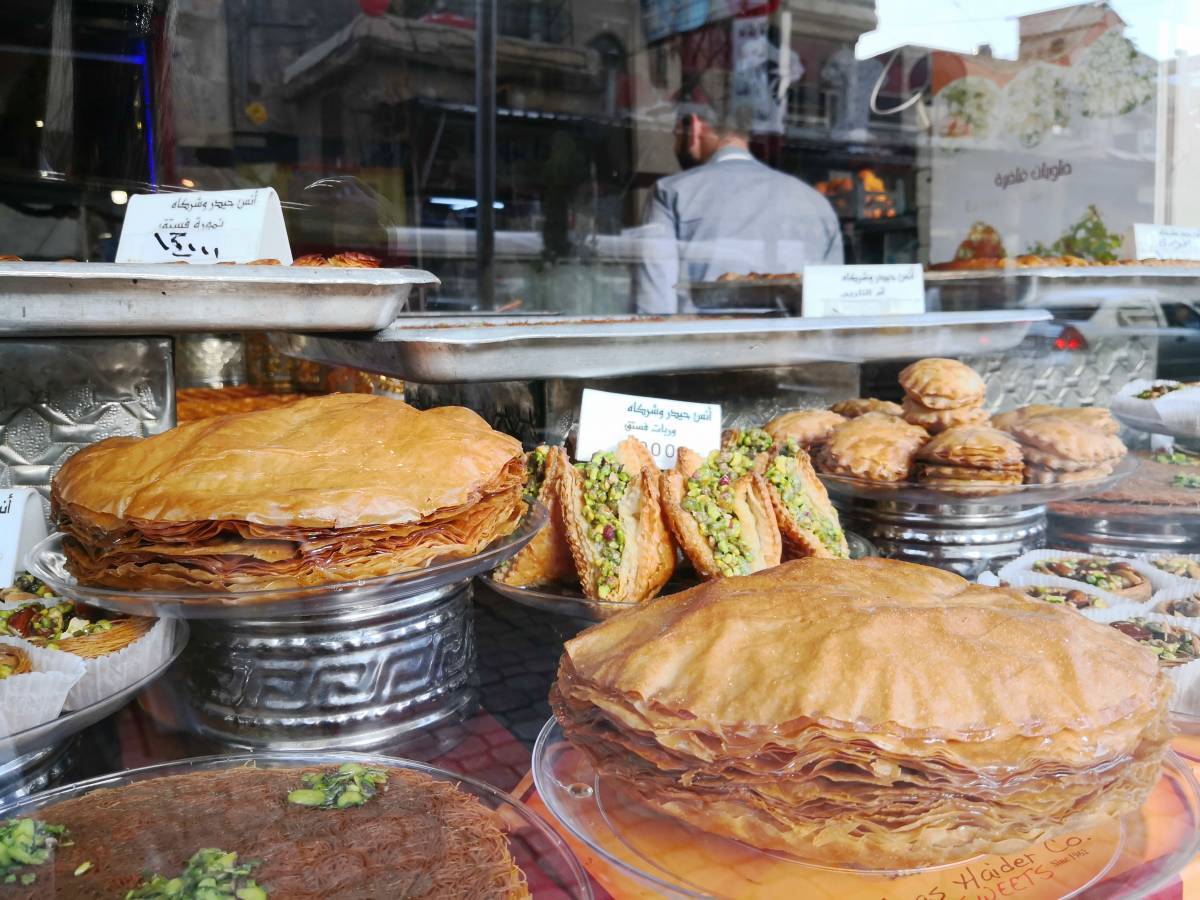 From one of the sweets shops in Damascus - Photo by Zeina Shahla
The Soft is no Longer "Soft"
The voice of Abu Nabil, a 40-year-old salesman, can be heard ringing out throughout the popular Bab Sreijah market in central Damascus. "Come closer to the 'na'em', oh 'na'em'", "Come on to the 'na'em'", he calls on passers-by to buy his Ramadan goods, the soft loaves of 'na'em'. These "al-na'em" or "soft" buns, which he used to sell every year, are considered to be one of the most popular and least expensive Damascene sweets of Ramadan.
Be that as it may, the man complains that sales are relatively low compared to last year. He laments to Raseef22 with a sigh, "The ingredients of 'na'em' are simple: flour, water, and molasses, but the problem is that it is a dough fried in oil, and the price of oil has doubled between last Ramadan and today." Thus, Abu Nabil raised the price of his bag containing three large 'na'em' loaves from the 1,500 lira it used to cost last season to 3,000 lira (1$ US dollar).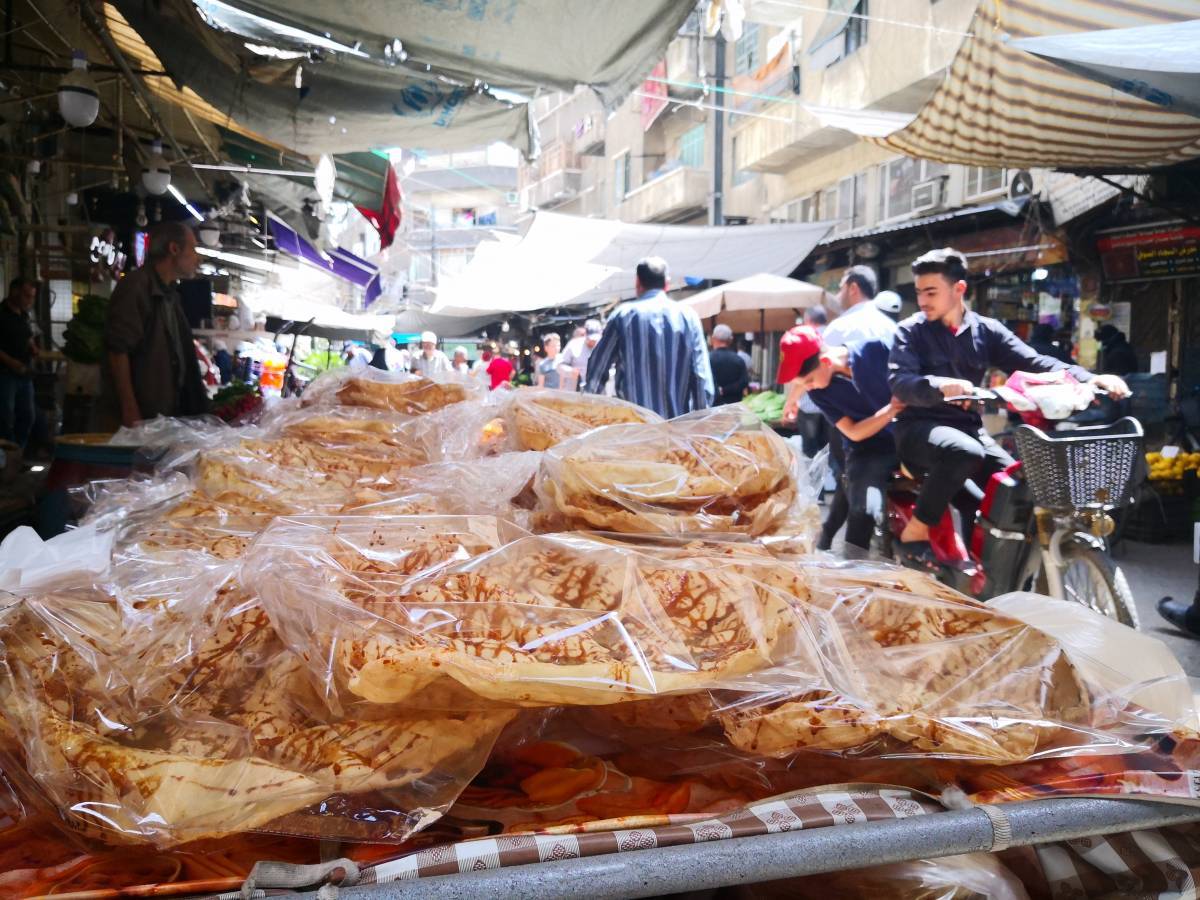 One of the 'na'em' sellers in Damascus - Photo by Zeina Shahla
The amount may seem small, but it is not for Um Rabih, a 50-year-old woman who lives in the nearby Bab al-Jabiyah neighborhood with her three children, following her husband's death and their displacement from Damascus's eastern Ghouta seven years ago.
"If we want to have dessert every day on the Ramadan dinner table, it means at least 90,000 liras just to buy a bag of 'na'em' , or two pieces of 'maarook' (a dough stuffed with dates, sugar, or raisins)," she tells Raseef22 as she walks through the market looking for some of her necessities at the lowest possible prices, and trying to check — as she does every day — if the price of sweets and desserts has dropped, even if a little bit.
"What is soft (na'em) is no longer soft, and Ramadan is very difficult and heavy," she adds in a sad tone.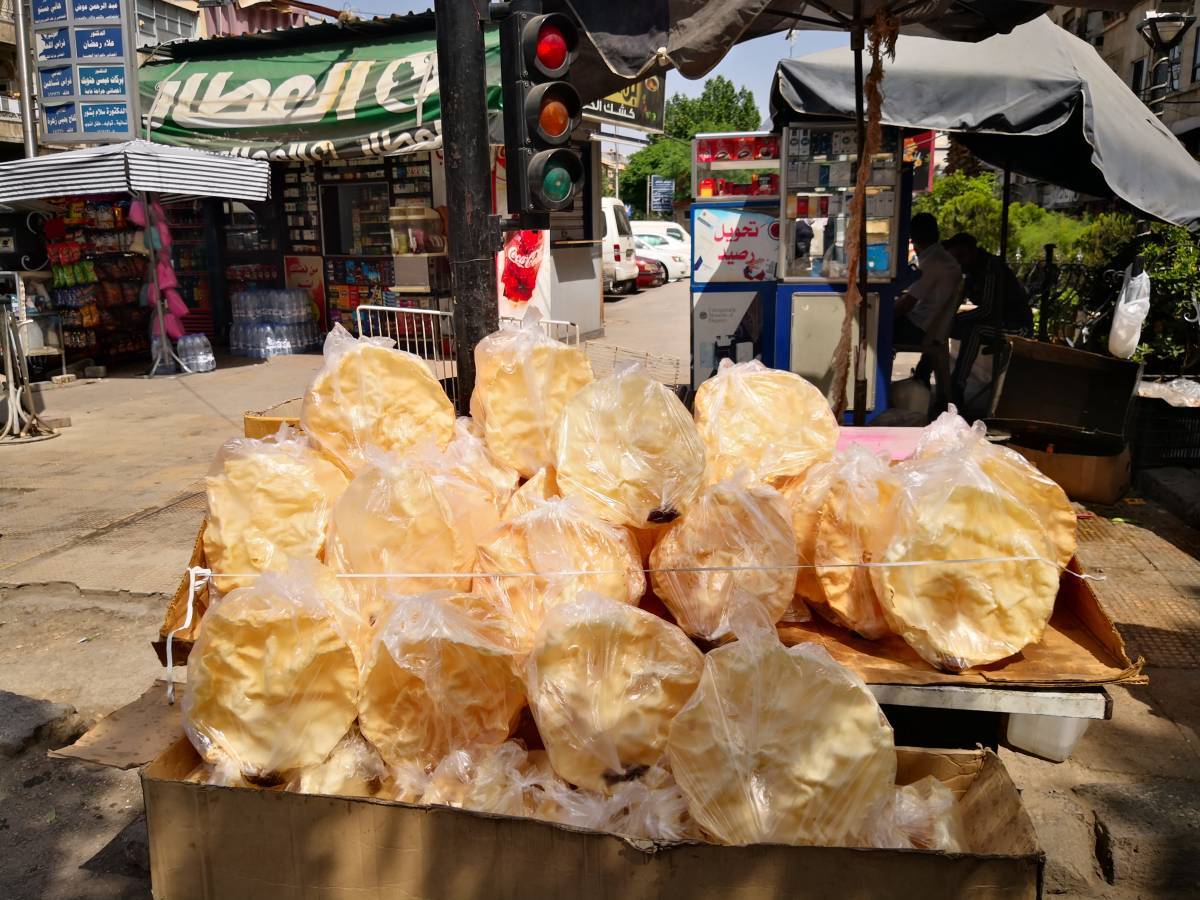 One of the 'na'em' sellers in Damascus - Photo by Zeina Shahla
Food Before Dessert
Despite the unusual "slow movement and traffic" during the month of Ramadan, pastry sellers in Damascene markets do not think to stop working for one day. Rather, they adapt their product lists and prices to changing economic conditions in a country that has entered its 11th year of war.

In one of the popular shops in the Jazmatiya market, Abu Mohammad is busy packing large dishes containing the most famous Damascene sweets: 'nammoura', 'harissa', 'warbat', 'sha'ibiyyat' and 'qatayef', but the number of dishes this year is the lowest since the war began. "Last year, we used to make 10 large trays of 'nammoura' — one of the lowest-priced and therefore the most sought-after sweets. And this year, our daily sales do not exceed four trays, and this can be measured in relation to the rest of the dessert types," he tells Raseef22.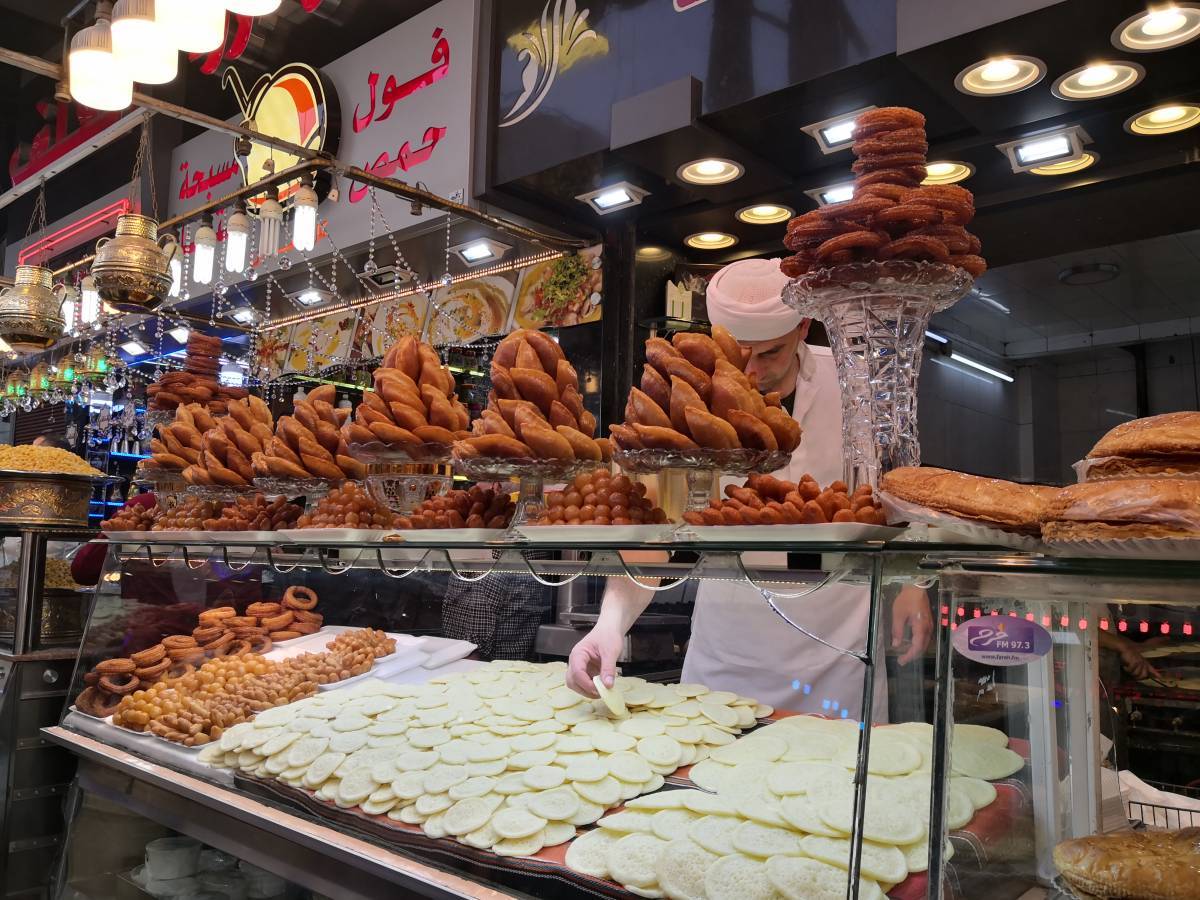 From one of the sweets shops in Damascus - Photo by Zeina Shahla
Nearby, Abu Imad stands waiting for any customer to enter his small shop, which specializes in selling 'qatayef' and 'nammoura'. He points out that the "sales traffic" was acceptable during the first days of Ramadan, but it decreased significantly afterwards. He says that people were happy with the arrival of the holy month and wanted to celebrate it, but economic conditions had the final say, "People do not want to buy sweets, people want to eat," he regretfully tells Raseef22, explaining that the lowest price that can be paid for one kilogram of sweets is 10,000 Syrian pounds (3 US dollars), equivalent to a fifth of the salary of many public sector employees.
"How can we sell for less than that if the price of one kilogram of pistachios exceeds 70,000 liras (23 US dollars)?" says a seller in a third nearby shop that specializes in selling luxury Oriental sweets. He says the profits of any sweets maker — as is the case for all other professions — have fallen dramatically over the past 10 years. "Before the war, we used to buy a kilogram of pistachios for 1,000 liras and sell a kilogram of oriental sweets for 1,000. Today, we buy pistachios for 75,000 liras, and we sell sweets for 45,000. How long will we be able to bear such burdens?"
The conversation is interrupted by a man who shyly asks about the prices of several types of sweets. The seller sighs and decides to lower it a little bit, saying, "It is a month of kindness and generosity, and there's no escaping being merciful to each other."
From one of the sweets shops in Damascus - Photo by Zeina Shahla
"If we want to have desserts on the Ramadan dinner table, it means at least 90,000 liras just to buy a bag of 'na'em', or two pieces of 'maarook'… Ramadan is difficult and heavy on us this year
"Forgive Us"
The situation in neighboring Lebanon does not look much better. The economic collapse, which has been going on for more than a year — following the October 2019 uprising and the Beirut explosion in August 2020 — has reached everything, including Ramadan sweets, of which Lebanese iftar tables are not usually set without. The purchasing power of Lebanese citizens has become almost non-existent after the minimum wage touched $70 US dollars a month, while prices continue to rise as a result of the devaluation of the Lebanese pound.
In front of the "Safsouf" sweets shop in Beirut's Tariq El Jdideh, people wait before the hours of iftar for their turn to enter and buy the famous desserts.
One of the workers in the shop explains to Raseef22 that the faces this year differed. Many families that used to visit them last year did not appear this year, and in case they appeared, it was to buy in small quantities. Whereas large quantities are bought by financially able families and foreigners residing in the city.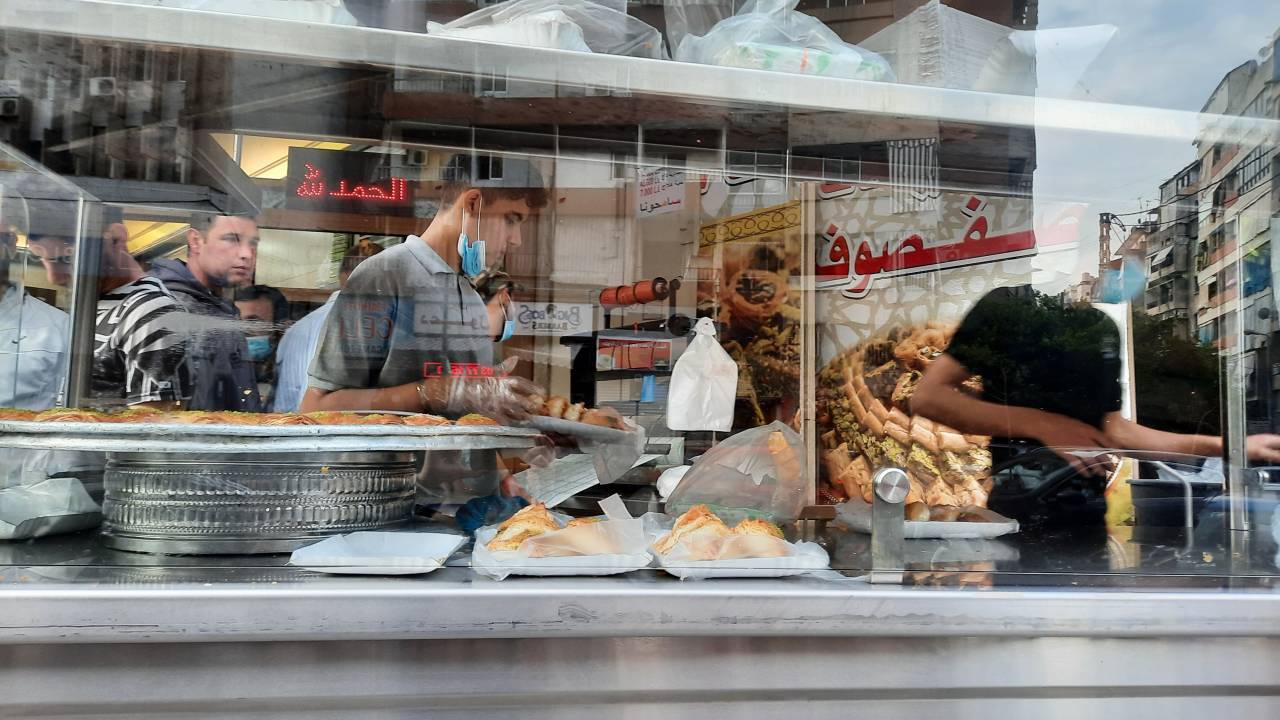 From the Safsouf sweets shops in Beirut - Photo by Nagham Sharaf
In front of the shop, the Safsouf management put up a sheet of paper with the new prices, and at the end asked for forgiveness from the customers, writing "Forgive us", as prices have doubled from last year. A dozen pieces of the 'kalaj' dessert — a dough stuffed with various fillings — used to cost 24,000 Lebanese pounds now costs 84,000 LBP (7 US dollars), and the reason is the high prices of the raw materials, especially margarine.
Out on the road, there are faces that pause to look at the desserts but do not buy them, while others are buying much less than they used to buy last year. Meanwhile for some others, things haven't changed much because they get paid in fresh dollars. This small shop on Tariq El Jdideh — through its sweets — reflects the economic collapse and the class differences in Lebanon.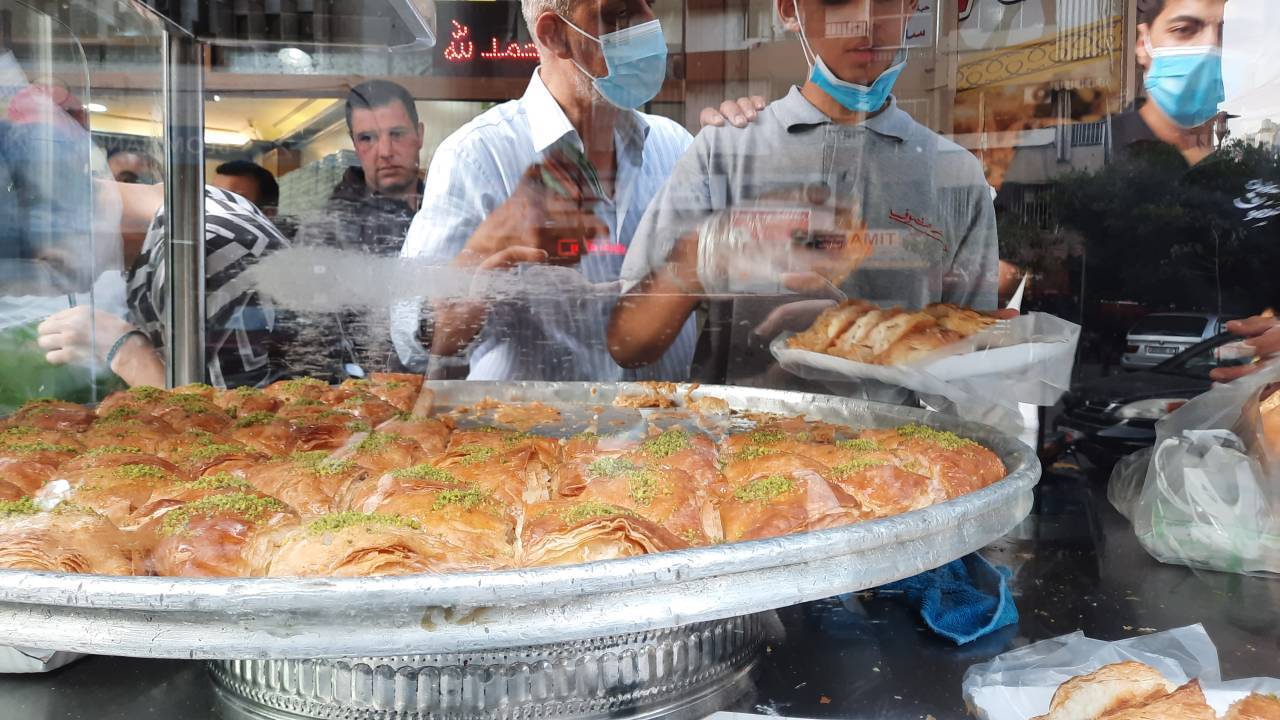 From the Safsouf sweets shops in Beirut - Photo by Nagham Sharaf
"O Sweet, Who Can Buy You?"
Mr. Shukri, 77, sits on the stairs that he has taken shelter for himself about a year ago on Hamra Street, west of Beirut, and cries because he is unable to fast.
Last year, after a car accident that left him without the ability to use his right leg, he became unemployed and homeless on the streets and now survives on aid and relief.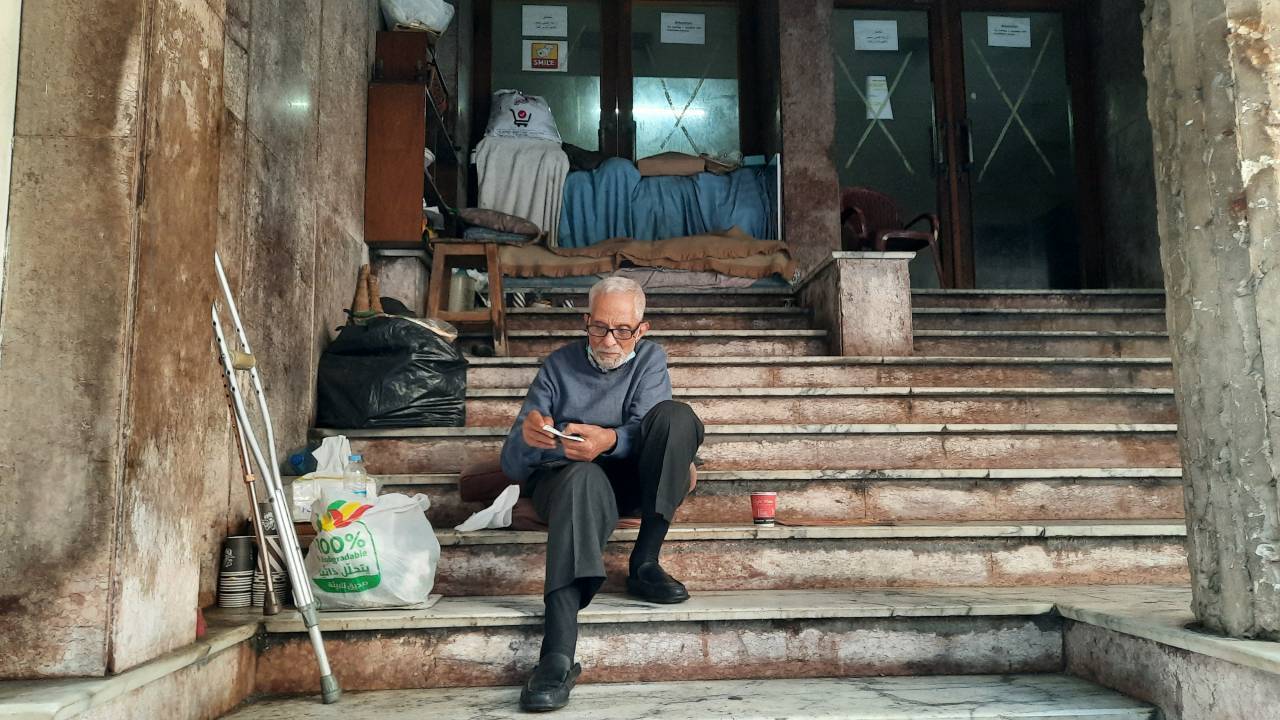 Mr. Shukri on the steps of a building on Hamra Street - Photo by Nagham Sharaf
When asked about the sweets he likes to eat during Ramadan, he explained that he is unable to imagine dessert because his mind only thinks of soup. In his Egyptian accent, he says, "Last year I was making candy in my house. I am an Egyptian who has lived in Lebanon for 50 years. I worked in the field of accounting and one of my hobbies is cooking. Give me a house and a kitchen and watch me make the yummiest food. Today I am unable to buy more than a 'man'oushe zaatar' (famous lebanese breakfast pastry). Ramadan sweets, I only dream of those. My imagination goes towards 'maamoul bi ashta' (cream). What sweets are you talking about? O sweet, who can buy you?"
The price of a kilogram of 'maamoul bi ashta' today ranges from 60,000 to 70,000 Lebanese pounds. Therefore, Mr. Shukri, like many Lebanese families whose monthly income does not exceed 900,000 Lebanese pounds, is unable to fulfill their simple dreams of enjoying the sweets they desire. The latter is considered a luxury, while the priority is securing bread, sugar, and rice.
"Today I can barely buy a 'man'oushe zaatar'. Ramadan sweets, I only dream of. My imagination goes towards 'maamoul bi ashta'.
Home Made Cream
With the major rise in prices, those who are fasting must find alternatives to 'madlouka', 'halawet el jibn', 'sha'ibiyyat', 'kalaj', and 'qatayef', lebanon's most popular Ramadan sweets. However, buying them is no longer affordable for everyone, with a dozen pieces of 'sha'ibiyyat' priced between 20,000 and 40,000 Lebanese pounds, after it had been 6,000 LBP last year. The same applies to the 'madlouka' which doubled in price from 20,000 to 40,000 Lebanese pounds. As for 'qatayef', the cheapest dessert, it rose from 6,000 to 12,000 Lebanese pounds. All this and the salaries of the Lebanese remained the same.
Therefore, this year, Hajjah Jamila decided to buy 5,000 Lebanese pounds worth of 'qatayef' dough and add cream made at home to it. She certainly won't get the same taste as ones purchased from the market, but the cost of the "ready-made" 'qatayef' is beyond her financial capabilities.

Hajjah Jamila carrying the 'Layali Lubnan' platter - Photo by Nagham Sharaf
Hajjah Jamila stands while carrying what she has left of 'Layali Lubnan' or 'ashtalieh', a type of dessert that doesn't cost much to make, consisting mainly of milk, semolina, and sugar.
"After a while, when the milk supply runs out, I'll stop making all kinds of sweets, even the cheap ones, and I will have to save money to buy food for me and my 90-year-old husband," Jamila sadly tells Raseef22.
Show the comments