Thursday 9 July 202002:12 pm

إقرأ باللغة العربية:
هل يمكن أن يخلق الفنّ ديمقراطية؟ تجربة "النوم مع العدو" تؤمن بذلك...
Over the course of 21 days, 9 artists and 2 women curators, turned a small space in Mar Mikhail, Beirut,, into a second home-and open studio. In the shared space, conversations about politics, the economy and art sprouted between every brush stroke. The studio was also open to the public, breaking the solitary artistic process. The result? A unique body of work that celebrates collaborative artistic conversations.

Zalfa Halabi, the curator of the initiative, shared her thoughts on this experience:
The rules are simple and egalitarian:1- Prices are unified for all artists. 2- All proceeds will be divided equally among the artists, 3- The material is shared by everyone.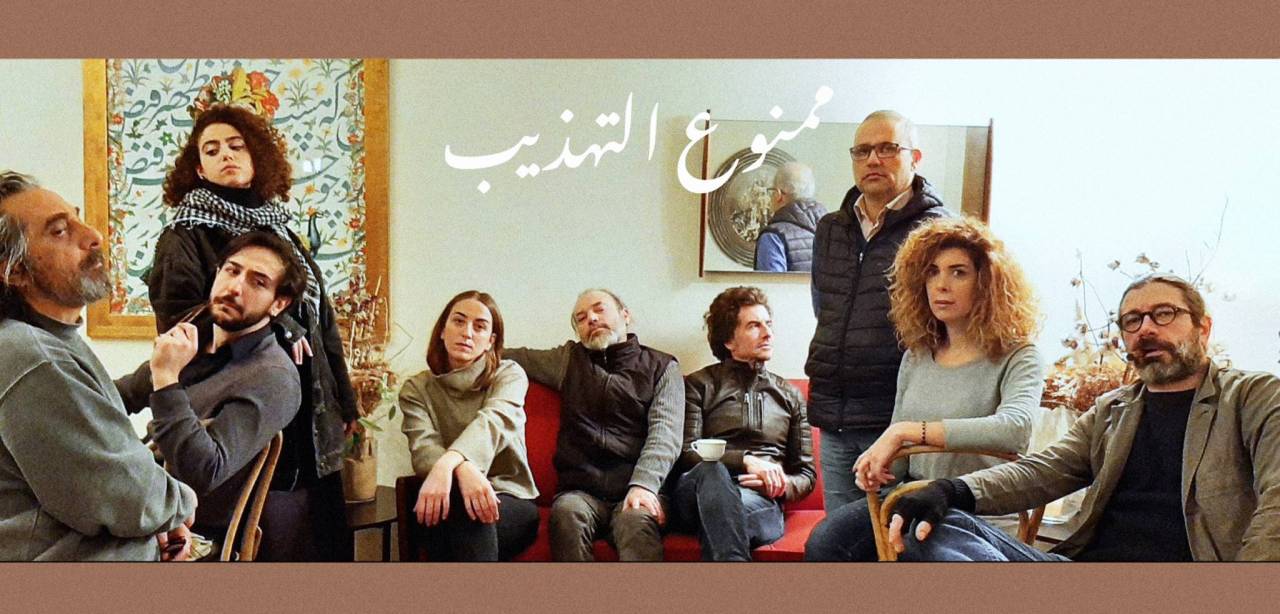 Who is the "Enemy"?
Aiming to defy our understanding of what an "artist" is supposed to be, the artists took off the cloak of individuality to create a space where solidarity is a priority, and where, 'sleeping with the enemy', which stands for collaborating with fellow artists, is the only way forward in times of uncertainty.
Since its founding, the collective has done three productions with up to 10 participating artists: RAW (2019), S.W.T.E (2019), Manou3 el Tehzib (2020), and is now happy to announce its third edition "Taba3od" (Distancing) with the founding fathers of the collective Semaan Khawam and Fadi El Chamaa.
The productions typically last a full month and are split into two phases. During the first phase, the participating artists immerse themselves in a temporary shared studio over the course of three weeks to create works on paper, all the while opening up their artistic processes to the public. Once that is over, the works that were created in that space are exhibited for the length of a week. And when the temporary space is no longer in use, the remaining works are sold through the website of the initiative.
Taba3od
In the face of a changed world, both El Chamaa and Khawam, felt the need to connect with each other and the world again. When everyone is adapting to social distancing, the artists are finding ways to get closer together through an artistic marriage. And as everyone is adapting to the digital world, El Chamaa and Khawam are ready to leave it: "I'm sick of creating art works with the concept of a Jpeg in mind," says El Chamaa.
This production will start on July 6th, as both artists will be going off social media to collaborate on multiple works from paintings to sculptures and more, over the course of 21 days.
About the Founders
Semaan Khawam (1974, Syria) introduces himself as a self-taught multidisciplinary artist, more recently known as "birdman." His nickname is inspired by his recurring bird motif, which stands as both his alter ego and all-time favorite companion. Khawam fluctuates between paintings, sculptures, graffiti, theatre and/or "anything his heart desires". He draws inspiration from his daily life in Beirut to record its uncomfortable realities through self-portraits and politically engaged portraiture.
Fadi El Chamaa (1960) says that he has all the symptoms of a chronic Borderline Personality Disorder (BPD), but with an extraordinary ability to bring to life his alters and their states of mind through his self-portraits. As a self-taught artist, he's been painting his many facets since his 20s, creating along the way a complex body of work that doubles as a hymn to freedom.
Show the comments