Thursday 17 October 201905:04 pm

إقرأ باللغة العربية:
"لون بشرتنا يلهمنا ويقوينا"... البنات السمر في فلسطين
Arabic songs have always praised the virtues of dark-skinned girls, with thousands of poems singing the praises of their magical dark color, perhaps that is why the perception of dark-skinned girls in Arab societies differed from the stereotype held by some that dark-skinned girls are not distinguished by much more than having too much melanin in their skin.

Dark-skinned people are an inseparable part of Palestinian society, distributed across all of the West Bank cities, the territories occupied in 1948 and the Gaza strip. The constant is their attachment to their color, as a point of strength that reinforces diversity and pluralism, and this has been reinforced by the example of dark-skinned girls who were able to convert their fear of being different into points of strength.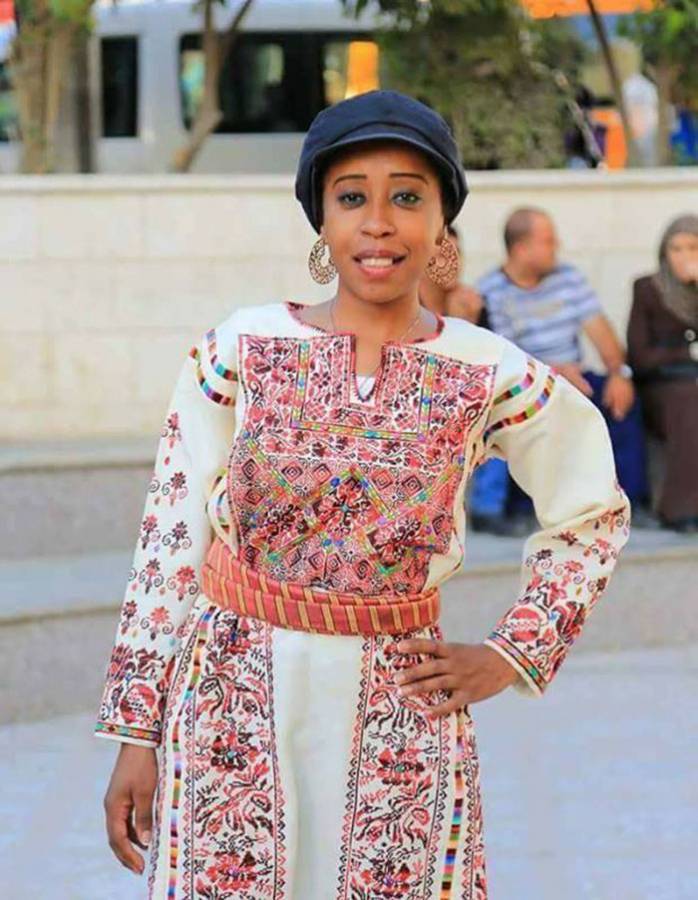 Jihan Zidan
A Source of Inspiration
"Um Samra" (meaning "Mother of the Dark Skin") is how thirty-year old Jerusalem resident Jihan Zidan is affectionately known. Zidan works as a reporter for an Arabic newspaper.
Zidan told Raseef22: "Of course my skin color does not pose an obstacle to my progression in work or in life generally, but to me, it is a source of inspiration, which pushes me to proceed past all obstacles, with the aim of changing the stereotypes attached to those with black skin, which have begun to retrench because they imposed themselves powerfully, as a result of their repeated successes and jovial spirits that ensured their integration into society along with lighter color people."
Zidan is not embarrassed or sensitive towards those who playfully refer to her skin color, with her presence particularly distinguishable wherever she goes, such as in national or social anniversaries, as well as the conferences in which she participates along with her other dark skinned friends. "I am the star of the place" she often tells them jokingly.
Nonetheless, according to Zidan the life of dark-skinned people in Palestinian society is not an easy one; they face incidents of racism – though she asserts that this is not a general attitude. For instance, the term "slaves" is no longer widespread in society as it once was; Zidan points out that the nature of Palestinian society which shares the same grievances and causes, requires society to be united in solidarity and accepting of others – not least considering that dark-skinned Palestinians also have a long record of resisting the Israeli occupation.
Yet Zidan also notes that some black skinned people can feel a sense of fear and anxiety when progressing from one stage to another, as happened with her when she entered Birzeit University to study media. Here, such worries included whether she would be able to make friends or whether she would be a shunned outcast – for she was the only dark-skinned student at the university at the time. However, when she entered the class on her first day, her fears were soon dispelled – she would form good relationships with her counterparts, including forming some of her closest friendships which remain up to the present day.
Zidan aspires to become the first reporter with black skin on Palestinian television, and hopes to continue her studies to attain a master's degree in the future.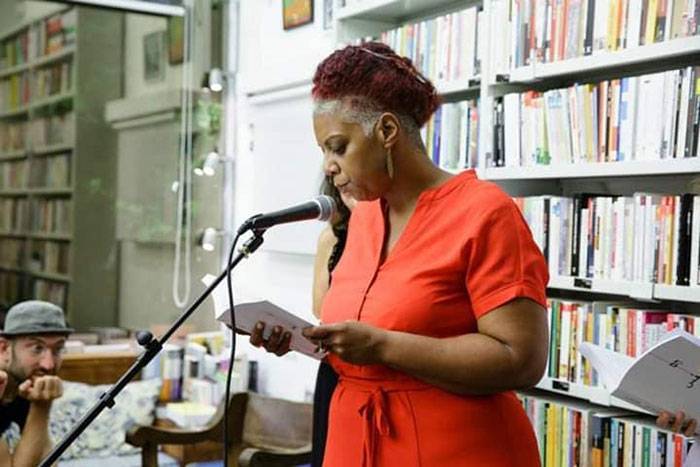 Maria Miguel
Explaining a Racial Slur
Further north in the Palestinian city of Haifa, where fifty-year old activist Maria Miguel lives has a different story. Miguel is of mixed race, her mother originating from Haifa and her father from Guinea-Bissau.
Miguel was raised in a warm Palestinian home rife with love, considers her parents the two greatest people in her world. It was this fertile upbringing, she told Raseef22, that planted a strong seed which would grow into what she would later become.
They say that "if you wanted to distinguish an intelligent mother, you should listen to how she explains sensitive subjects to her child." That precisely is what Maria's mother did, explaining the differences in skin colors, after her three-year old daughter was shocked to hear a racial slur directed at her father by an Israeli as she was walking alongside him in the street.
Zidan, a black skinned journalist known as Umm Samra, points out that the nature of Palestinian society which shares the same grievances and causes, requires them to be united in solidarity to face occupation.
Black skinned people arrived in Palestine with the start of the Islamic conquest of the region, integrating and eventually becoming a part of Palestinian society as the common struggle against occupation unified all races.
Maria asked her mother what the slur targeted at her father meant, for "he is only my father and not anything else." Her mother responded with a story stating that "God's will was to create us with different colors from one another, as with the variation in flowers, in order to give life a splendor which is far-removed from monotony." It was then that Maria understood the meaning of having different skin colors.

Miguel says: "I never suffered from my dark skin, rather it makes me feel special; I owe this to my upbringing in a protective and cultured home. Indeed, I married a handsome man from the city of Nazareth and gave birth to my son – Habib."
Miguel affirms that it is the personality of the individual which forces society to accept them and allows them to plan and undertake their own journey in life. For human nature often draws a certain mental image for those who appear to be different, one which varies from one individual to another according to their culture, irrespective of the crux of their differences.
Miguel is raising her child Habib according to the same manner that she was raised in her home. Indeed, on his first day at school, the school held a celebration for "African day", to teach children about African customs and traditions.
Miguel concludes smiling: "Even though I am fat and have frizzled hair, I am at peace with myself and love my appearance, and my students love me too, and I always participate in social activities which strengthens my social relationships with everyone."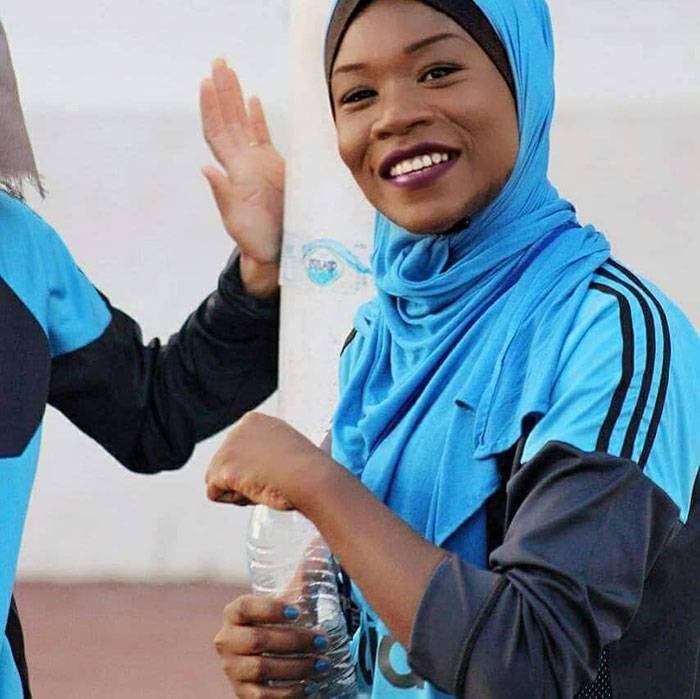 Hana'a Abu Muailaq

The History of Black Skin in Palestine
According to a study by the Palestinian Vision Organization, black skinned people arrived in Palestine with the start of the Islamic conquest of the region, integrating and eventually becoming a part of Palestinian society. Their proportion fluctuated between different areas and cities: in Tulkarm for instance, dark-skinned people form 70% of the population - while they form a considerable number also in southern Hebron. As for those living in Jerusalem, it is likely that they arrived in the area with the end of the 19th century from four countries: namely Chad, Nigeria, Sudan and Senegal – specifically from the tribes of the Salamat, Borno, Takruri, Firawi, Husi, Borjo, Colombo and Falata.
According to the study, the arrival of these tribes to Palestine was based in their belief that the Day of Judgement would take place in Jerusalem, with many arriving from the Hijaz to Jerusalem after finishing the Muslim pilgrimage in Mecca (Hajj) – while another group amongst them arriving on the outbreak of the Palestinian-Israeli war of 1948.
In Gaza meanwhile, black skinned people are heavily centered in the city of Khan Yunis – specifically in the al-Gharara neighborhood, where they form more than 70% of the population.
"I don't find my dark skin to be a constraint, I wear makeup as I like, I wear colorful clothes, and I follow all the new hairstyle trends." So were the words of 30-year old Hana'a Abu Muailaq, who lives in Deir al-Balah in the centre of the Gaza strip, and works as a sports trainer for the disabled, training them in basketball.
Abu Muailaq's skin color does not constitute a criteria that could affect her life, whether in work or in making friends; indeed, even the way society at large looks at her constitutes an opportunity to challenge social taboos that limit women to a certain social role because of their color or gender – not least considering that she works in a profession that is usually dominated by men.
Abu Muailaq says: "We have a friendly relationship with our neighbors in Gaza who are of a different skin color, we share all the anniversaries, both happy and sad, and eat with them from the same plate. I don't exaggerate when I say that Gaza is much better than many advanced societies that are dominated by racial discrimination."
Nonetheless, Abu Muailaq notes that she is sometimes subject to harassment by certain sectors of society – not because of her skin color however, but because she challenges the established customs and traditions, such as wearing her sports kit when leaving the house, and her passion for sports.
Ultimately, Abu Muailaq says that skin color is not an impediment in Palestine to success, noting that there are many famous and successful individuals of dark skin both in Palestine and abroad – a stark contrast to old cinema movies that reduced those with dark skin to characters of subservience, such as doormen and maids, or painted them as a frightening image that terrified the observer.
Show the comments