Sunday 1 September 201903:02 pm

إقرأ باللغة العربية:
خذوا نفساً عميقاً وانصبوا خِيامَكم واسهَروا... في شاطئ وادي قنديل في سوريا
With one click we can google the most famous spots on the Syrian coastline which stretches 180 kilometers on the eastern coast of the Mediterranean, extending from Latakia the largest coastal city, in the north down south to Tartus and to other cities and smaller localities, such as Jabla, Banias and Ras al-Bassit. The length of the valley encompasses both sand and pebble beaches, as well as luxurious resorts in which a single night can cost $200, despite the fact that the median monthly income in Syria is approximately $100.
Looking for something less upscale and noisy? Look no longer, visit one of the most serene beaches along the Syrian coast: Wadi Qandil.
Referred to by some as the "magical place", with the unique intersection of sea, mountain, and river in a temperate micro-climate, to some it is the most beautiful beach in the area, embracing diverse visitors – from families of limited income, to youths searching for a peaceful place to put up their tents and sleep on the beach, to others still looking for a weekend which can combine a quiet lazy day combined with noisy and boisterous musical nights.
From Burning Man drug and music nights to a now gentrified nature resort, Wadi Qandil has a strange energy that bewitches all those that visit it. Read all about it:
Mountain, sea, river and trees in Wadi Qandil, Syria's undiscovered bastion of chill vibes in a peaceful and unpolluted stretch of hope and beauty missed by the war machine
A Mountainous Road and Good Food
In order to reach the "magical place" however, we have to undertake a 25 kilometers journey north of Latakia and then detour from the highway to a side road which passes through a variety of villages dispersed amongst the mountains before reaching Wadi Qandil. Here we should not forget to take a stop at an oven which makes Tandoor bread – with the Tandoor oven a common feature in many households of these villages – before finally enjoying a Fiteer (pizza-like pastry) stuffed with cheese, cottage cheese or Za'atar with the required cup of tea on the side.
At the end of the road we reach an intersection in which we can turn right or left; here begins the story of the Wadi (or valley) which is four kilometers long. It is believed that the name of the valley comes from a large lamp (in Arabic, Qandil) that used to be situated on the top of a high hill to light the way for fishermen at night, with its reflection also covering a large area of the water and sand.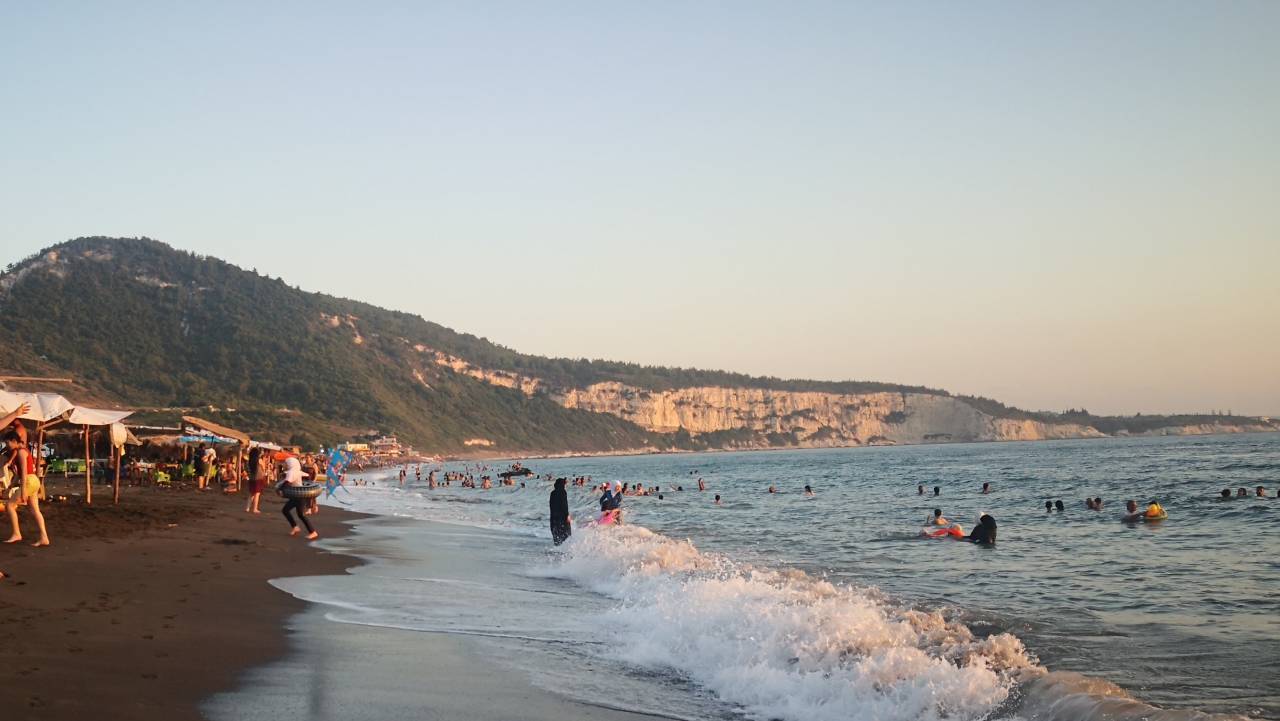 An Unknown Beach
A long sandy beach surrounded by high rocks, ever green mountains and pine and citrus forests on all sides, clear blue waters showing off shells. Fishing boats of all sizes that go out to sea from the earliest hours of the day, their lights mixing at night with those of coffee shops, restaurants and other late-night venues found along the beach.
Until twenty years ago, Wadi Qandil was a relative obscurity, the main holiday resorts of Latakia (such as the Meridien and Blue Beach Hotel) being the main destination of visitors to the Syrian coast.
According to 'Sameh', an pioneer visitor of the valley from one of the villages of the Latakia countryside, the valley "was not a place [tourist destination], but only a sea lying in the midst of simple villages inhabited by ascetic people who had no interest in tourism and worked in the farming of lemons and olives. In the late 1990s the valley only had two places that received customers who came with all of their necessities in order to swim, and no one paid more than 50 Syrian Liras, which at the time was equivalent to one Dollar."
With the onset of the new millennium, which was accompanied by a leap in the production of Syrian dramas and television shows, some production companies chose to film series as well as musical video-clips on Wadi Qandil beach; consequently, "people started to pay attention to the beauty of the place, and so began to visit to swim at its magical sand beaches, which also attracted the attention of many investors, and so the Wadi entered a new stage of tourism" added Sameh – a young man in his thirties –to Raseef22.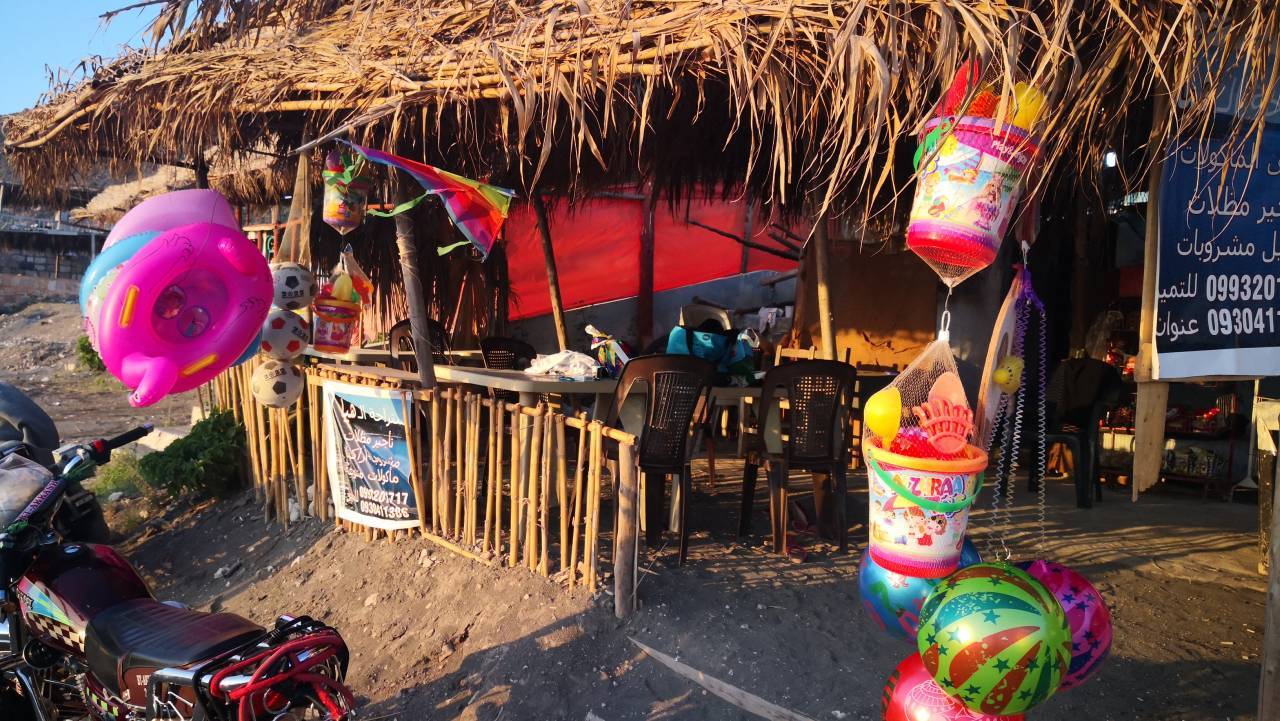 According to Sameh, the evolution of this tourism stage would be a gentle process, taking place one step at a time. Camping enthusiasts erected their tents on the shores of the beach, lighting a fire to spend late nights around, while groups of friends began to head to the valley to spend weekends. At the same time, small facilities such as simple chalets, small huts and were built. Such developments were of course useful to many residents of the villages of Wadi Qandil, some of whom took up the tourism trade and opened small facilities to service tourists, including shops and food outlets.
Omar Malas is a 36-year old photographer; he remembers this period well, speaking of his recollections to Raseef22: "I visited Wadi Qandil for the first time in the year 2000; at the time it was a destination for middle-class families searching for a simple, happy and lively vacation, with the late nights, singing and music; it became a symbol for those who knew how to enjoy the beauty of the sea without exorbitant prices, mostly artists, musicians and civil servants."
These memories, which Malas fondly remembers as "very pleasant", included only one shop, a small restaurant almost hidden at the edge of the river-bank which ended inside the sea, and a famous oven which sold Tandur pastries; another inseparable part of his memory were the camping trips for those who wanted to feel at one with nature, and which he still undertakes to this day.
As the years went by, and the Syrian Lira has depreciated by more than 10 times its pre-war value, some facilities in the valley have retained their simple, popular character – where visitors are allowed to enter the beach for free, and can rent medium-quality chalets for a price ranging between $20 to 30 US Dollars per night, as well as having a good meal for about $8. Nonetheless, other facilities have sought to make themselves more luxurious, such as the wooden huts which cost from $60 US Dollars per night up to $100. Furthermore, entry into their adjacent beaches is not free, requiring a payment of up to $5 Dollars per person and encompassing swimming areas, restaurants and late-night shops and outlets.
A Heaven of Peace Despite the War
Today, a wide variety of guests visit Wadi Qandil, including those who learnt of the place through their friends or social media platforms that became widespread in Syria during the past decade, and who consider it their favorite place that has largely been unscathed by the war which seems to have missed the valley – though battles did take place in the northern countryside of Latakia, and artillery was stationed in the surrounding area for a period of time; moreover, some locals did become engrossed in the fighting, including some who were killed during the battles across the country.
Meanwhile, "free happiness" is how Sameh describes the spirit of the valley, that was always distinguished by a sort of freedom which he says could not be found anywhere else in Syria; by that he means the freedom to enjoy the pure nature and spend days unrestricted between the sea, mountains and river – all without harming anyone.
Today, Wadi Qandil represents a sanctuary for many Syrians who are looking to escape the war, as Yara Mahmoud tells Raseef22: "We feel today as youth in our twenties and university students a heavy pressure firstly as a result of social restrictions, and secondly from the social, economic and psychological effects of the war. With it being difficult to travel outside of Syria as well as the high cost to do so, we spend our holidays in Wadi Qandil which combines the stunning nature at reasonable prices, as well as comprising a unique space of freedom that make us feel, if only temporarily, that we are far away from the sounds of the war and its never-ending sorrows."

Yet Sameh and Omar do not conceal their fear that the valley would be transformed from a place that can gather various classes and sectors of Syrian society – as well as being a rare free sand beach in Syria today – to a bourgeois resort that prices most Syrians out. Such a fear is in no small part driven by the Syrian Tourism Ministry's announcement a month ago that it was opening a group of huts it would own in the valley - with each able to accommodate four individuals - for $20 US Dollars.
"We're still able to find a place to erect our tents and sleep on the beach, but we fear that we will not be able to do so in upcoming years" says Omar, while Sameh adds some optimism: "The place is still beautiful, and no one can take away the sea, mountain and river even if the type of visitors change amidst new investment projects. Wadi Qandil has a strange energy that bewitches all those that visit, and results in an addiction to the place. It is a holy place that resembles nothing in Syria."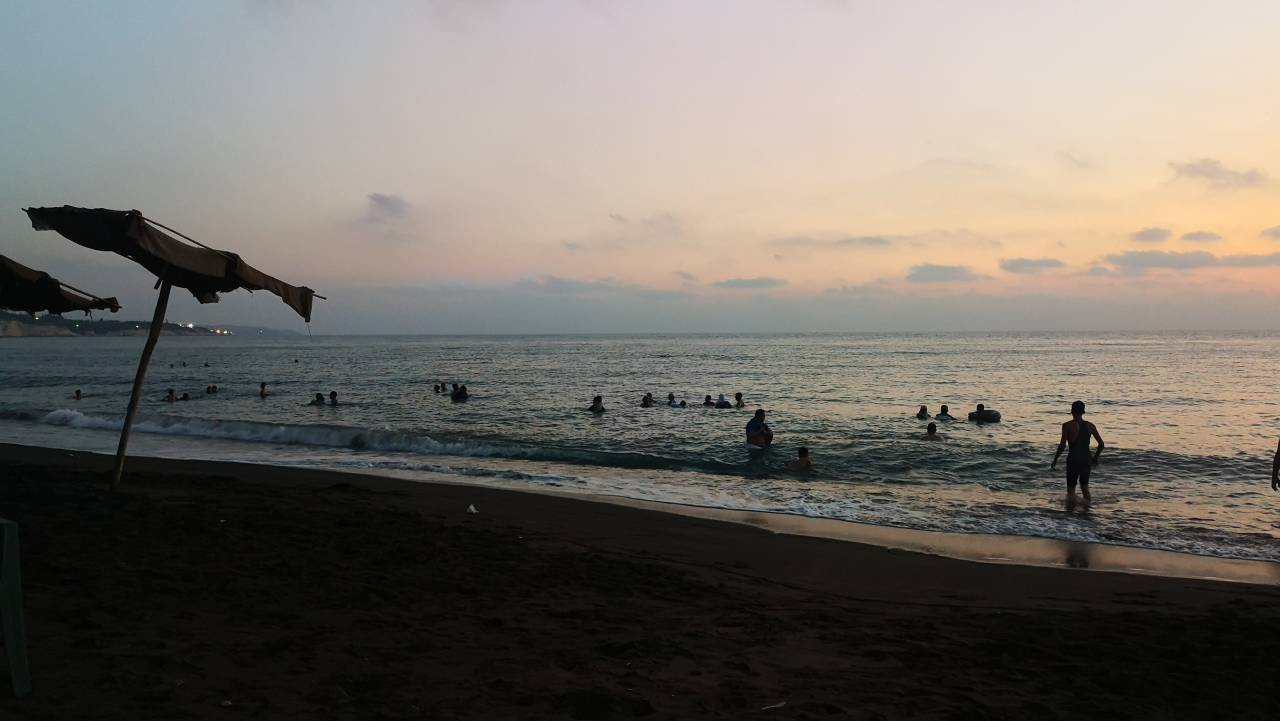 Show the comments